Residential Window Tinting Helps Reduce Glare, Lower Electricity Bills in Delray Beach
November 01, 2021 at 18:48
Many people in South Florida, including in Delray Beach, get plenty of sunshine all year long. When that sun pours in through the home's windows, it can cause problems, including creating a glare. This makes it difficult for people to watch television or use their computers. Professional home window tinting can help solve this problem, and provide additional benefits.
"Having a glare because of the sun shining in the room can be troublesome," explains Vince Ceraulo, president of Southern Glass Protection. "Whether you are working or trying to relax, it can take away from you being able to do that. You can improve your productivity and viewing time by having your home windows tinted."
Residential window tinting in Delray Beach reduces the glare caused by the sun coming through the window. Additionally, it helps to stop furniture and flooring from fading. Home window tinting is also a great way to save money on electric bills.
When the sun comes through the windows, it can increase the temperature, which keeps the air conditioning running. Window tinting helps keep the home temperature lower, which in turn lowers electricity bills. Homeowners are able to see an immediate return on investment when they have window tinting services done.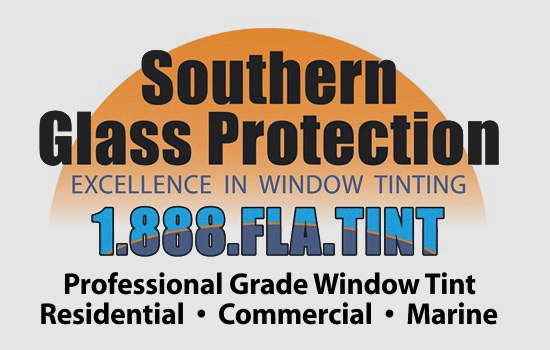 Southern Glass Protection has been providing professional commercial and residential window tinting services for over 20 years. It has a great reputation for doing excellent work. It focuses on providing high-quality window film that comes with a lifetime warranty, which can be transferred if the home is sold. Its team of experts knows how to professionally install the window film to ensure there are no bubbles, peeling, scratching, or other issues.
"Home window tinting also provides security," added Ceraulo. "It can help keep people from looking inside, and can help prevent objects from flying through the window."
Southern Glass Protection offers 50 different window tint styles to choose from, including frosts and gradients. Whether you want window tint to reduce UV light exposure or enhance appearance, the options are there, and it takes just hours to install.
The company offers free estimates and 10% off for all new customers in Delray Beach. It has served thousands of homeowners throughout South Florida, including in the areas of Parkland, Fort Lauderdale, Oakland Park, Boca Raton, Weston, and Broward County. To schedule a free quote or obtain a 10% off coupon, visit the site: https://southernglassprotection.com.
About Southern Glass Protection
With over 20 years of experience, Southern Glass Protection is the leading window film company in the Boca Raton, Fla., area. The company offers professional residential and commercial window tinting services, helping customers to reduce energy bills, add style and privacy, and have UV protection. To get more information about the company, visit the site at: https://southernglassprotection.com.