Pinx Group a Wall Twp paving contractors Offers Maintenance of Asphalt Surfaces Using the Latest Industry Standard Procedures
October 12, 2021 at 09:06
About Pinx Group
Wall Township, NJ - Pinx Group is a woman-owned and locally operated paving contractor serving the residents and commercial businesses in New Jersey. The company's staff is trained using the latest industry-standard procedures to provide clients with a cost-effective solution on repair, replacement, and maintenance of asphalt and concrete surfaces. With their experience, a wide range of modern equipment, and various treatment options, the company has been able to handle even the toughest projects in maintaining driveways, roadways, and parking lots for decades. In addition, the company has been offering a no-cost pavement evaluation and options plan for the client's property.
Pinx Group Offers Both Residential and Commercial Services in Wall Township, NJ
Pinx Group offers complete residential seal coating services in Wall Township, NJ. Seal coating is one of the greatest methods of preserving asphalt paving and involves applying a thin layer of tar material on the surface of the asphalt surface. It is worth noting that the application of tar will fill in any displaced rocks and cracks in the asphalt surface, thereby preventing further degradation while extending the life of the asphalt paving. The team at Pinx Group has the knowledge and experience needed in carrying out driveway seal coating. They will conduct a thorough cleaning of the asphalt surface using their high-powered blowers and wire brooms to ensure that the sealer adheres to the asphalt surface during the seal coating.
The paving contractors also specialize in asphalt repair, replacement, and driveway additions to residential homes in New Jersey. Over time, asphalt surfaces will deteriorate to a point where they will need to be replaced. Potholes, cracking, and rutting as some of the asphalt failures that warrant professional repair or replacement of the asphalt surface. The company uses the saw cutting method to excavate the damaged areas, repair the sub-base, pave the areas and then seal the edges using asphalt emulsion tack to prevent further peeling of the surface.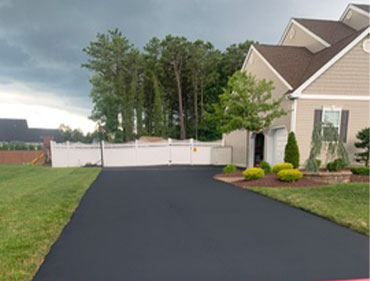 "Our stripping services include all general line stripping and marking services typically found in every parking lot. But we also offer stencil marking services in both MUTCD standards, as well as custom-created stencils for your branded projects." Said the company's representative while explaining their pavement marking services to major commercial and industrial areas in New Jersey.
Pinx Group a paving contractors in Wall Township, NJ, also offers concrete repair, crack filling, asphalt repair and paving, infrared pavement repair, parking lot maintenance, and many other services to its wide range of clients in the New Jersey area.
Contact Pinx Group
Pinx Group is located at 5051 Industrial Road, Wall Township, NJ, 07727, USA. For general inquiries, contact its specialists via phone at 7327561361. Learn more about the services offered by the company by visiting its website.