Westchester Movers Share Positive Review
December 15, 2020 at 17:13
Abreu Movers Westchester, a Larchmont, New York-based moving company, is pleased to share a recent positive review they received from a satisfied customer. The company provides the residents of Larchmont and the surrounding areas with reliable 24-hour moving services.
The review in question, by Brook Samuels, gives the company a full 5-Star rating and reads, "I chose Abreu Movers Westchester because of their great reviews and was not disappointed. They called about two hours before my move to say they could start early, and we arranged for them to do that. They were friendly, helpful and I was just so glad I hired them. We had three drop off stops to make, and they were efficient and quick at each one. They remembered exactly what was going to which location, which was way above expectations. I'll definitely use them again and would recommend them to anyone."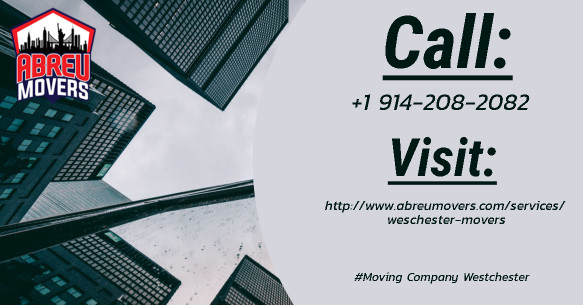 In response, a representative for the Westchester Movers says, "At Abreu Movers Westchester, we have always been dedicated to providing our clients with a quality moving service that they can put their trust in. To see that our clients are appreciating what we do is a great point of pride for everyone at the company."
Abreu Movers has been servicing New York for many years, and they have a team of workers who have the in-depth knowledge as well as experience to effectively and efficiently carry out moving jobs with ease. The company also has a sizable fleet of trucks as well as all the tools and equipment needed to provide a high-quality service. Abreu Movers Westchester is also proud to state that all of their movers undergo regular training to ensure that every client is satisfied with their services.
The company's moving services are comprehensive in nature, which means that they can take care of everything for their clients. From packing to moving to unpacking, Abreu Movers promises that their team of trained and experienced professionals will coordinate, perform and complete the move in the shortest time possible. Whether it is a residential or a commercial move, no matter the distance, they can take care of it — and at an affordable rate.
In addition to moving solutions, Abreu Movers Westchester also offers storage services for their clients. Those who are looking for a temporary storage solution before moving certain items to their final locations can rely on the company's assistance. The company will store the items in one of their secure storage facilities (and retrieve and transfer them when needed).
Brook Samuels is not the only one satisfied with the Westchester Movers' services. On their Google profile, the company has a perfect 5 out of 5 Star rating. Robert Henson writes in his review, "Very good experience with Abreu Movers Westchester, moving my daughter from one apartment to another. Crew arrived on time and was very courteous and professional. Did a good job packing and wrapping everything, even taking a bed apart. Nothing broken during the move. This was a difficult move, with narrow twisting stairs in the first building and long flights of stairs in the second. Price was reasonable and worth every penny."
In another review, Michelle Rowe writes, "From the professional, helpful estimate the moving company prepared to the last piece of furniture assembled, Abreu Movers Westchester performed superbly. This was my first move using a moving company, and they had answers to all my questions and suggestions for things I wouldn't have thought of. The actual moving crew arrived early within the expected window and worked expeditiously. They communicated with me and their crew responded like a well-oiled piece of machinery. Furniture was wrapped carefully, and everything and everyone was treated with respect. I recommend this moving company without reservation."
Those who want to learn more about Abreu Movers Westchester and their services are welcome to visit the company's website or click on the following link to find out more: Moving Company Westchester. The company encourages interested parties to get in touch with them directly via email or phone, and they can also be reached through the contact form on their website. Furthermore, Abreu Movers Westchester maintains a presence on Facebook where they frequently post updates, share media and communicate with their customers.
https://www.youtube.com/watch?v=JRJONuGF6RU
This Westchester moving company also operates in the surrounding areas of New Rochelle, Yonkers, White Plains, Greenwich, Stamford, Bedford Hills, Yorktown Heights, and Ridgefield.
###
For more information about Abreu Movers Westchester, contact the company here:

Abreu Movers Westchester
Abreu Movers Westchester
(914) 208-2082
info@abreumovers.com
2005 Palmer Ave #1048, Larchmont, NY 10538