University HQ Releases the 55 Best Healthcare Administration Schools and Programs
University Headquarters, the premier educational resource for college students, is proud to announce its picks for the Top 55 Healthcare Administration Schools and Programs in the United States. The list is intended for use by aspiring college students just starting out, mid-career professionals who are seeking a new path, or healthcare professionals that may need an advanced degree or certificate in healthcare administration. UHQ implemented research methods that sought to present the very best educational value for students.
That is, in assessing each healthcare administration degree program, researchers evaluated them on the basis of their curriculum, faculty expertise, flexibility of classroom delivery, retention rate, graduation rate, cost of education, and the expected return on that educational investment. The overarching goal of the researchers was to measure and rank each program more on the basis of its objective characteristics, such as cost and return on investment, so that the rankings could avoid subjective judgments as much as possible. Students and their families could then consider their individual needs and measure those against the ranking system. Thus, every program on the list provides a top-notch, often nationally accredited education.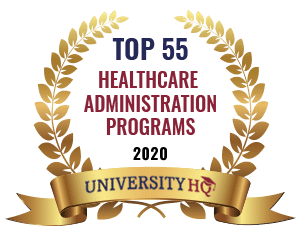 Some of the best college healthcare administration degree programs that made the University HQ top 55 list are: Central Michigan University, University of St. Francis, University of North Carolina at Chapel Hill, University of Southern California, Trinity University, Seton Hall University, George Washington University and many more.
It was important for researchers to find programs that offered a variety of choices for students. That is because students are well-known for entering programs intent on becoming hospital administrators, for instance, but are then swayed to pursue more of a technology track after taking an elective in healthcare informatics. Thus, when programs offer a variety of concentrations or degree programs they tended to rise in the rankings.
Researchers also looked for programs that featured more PhDs on faculty and teaching in the classroom. It was also helpful to find faculty with a range of professional experience. While research-based programs were highly esteemed, a professional focus was preferred.
The retention rate was also deemed very important in the rankings. This number reflects the rate at which first-year students return for their second year. Researchers value this statistic because it indicates that students are pleased with a program, its faculty, and their perceived outcomes. It also ties in closely with graduation rates, which show the percent of first year students that continue in a healthcare administration program through the completion of their degree.
Education costs impact the students career return on investment and are calculated into the overall rankings. While UHQ's researchers were eager to rank programs that offer a high value, mere low cost didn't sway how the college programs were evaluated. Further, while some of the top schools may have rather low costs for in-state students, they can be quite expensive for out-of-state students. Thus, researchers took long-term return on investment into account. Even when students spend a large sum for their education, their degrees may translate into higher salaries and thus enable them to repay loans faster.
In order to make the list as practical and useful as possible, researchers found top-ranking healthcare administration programs all over the nation. The geographical distribution didn't include every single state, but every region received ample attention. It should be noted that public schools included in the Western Undergraduate Exchange offer the same in-state tuition to all students in states such as Alaska, Washington, Montana, Colorado, and California. Thus, a healthcare administration student from South Dakota, for instance, can attend University of Southern California for the same rate as a Santa Cruz native.
The researchers are quick to point out that the list is not all-encompassing. Every student and their families have unique educational goals as well as individual finances. The overall goal with this ranking of the top healthcare administration programs is to present students with a list that reflects high educational value. Students can then learn from this sample of academic programs and it can help to inform their decisions.
When readers review what is possible in these programs, they can begin to formulate a basis for comparison. Their personal criteria can be thus refined and honed so that their ultimate decision includes a variety of criteria and a comprehensive view of healthcare administration degree programs.
University Headquarters ongoing commitment to higher education is time-tested, as countless students visit the website for the very best in educational and career data. Whether they intend to study healthcare administration, computer science, business, or criminal justice, to name a few, all students are able to engage their educational choices with all the information they need to succeed.
###
For more information about University HQ, contact the company here:

University HQ
Christian Jacobs
(800) 793-5011
info1@universityhq.org
University HQ
14350 N 87th St #110
Scottsdale, AZ 85260
University Headquarters