The Max Community Offers Global Online Business Networking Opportunities
October 20, 2021 at 21:46
Greenville, Illinois based Max Community, an online global business networking community, would like to reach out to businesses that may be looking to expand their dealings globally. Max Community offers what they describe as a global, online networking community. Including tools, software and tech support, along with coaching and strategic planning. The platform asserts they can maximize business profits within 30 days by helping users create their own Max Dream Team with all the skills and resources necessary to achieve any goal imaginable.

"Teamwork makes the dream work," notes Max Community. "You will never achieve your full potential without an amazing team! The experts at the Max Community can be your dream team! Whether you are a tech expert, a coach or business advisor or a total 'non techie' with 'tech phobia,' we have a place for you."

By helping users create multiple streams of income, Max Community enables them to earn more and work less while implementing the maximum possible impact in their field. This is referred to as living a 'Max Life,' and the community has already helped countless individuals lead such a life by maximizing the output of their businesses. Experts and coaches are welcome in the Max Community, especially those who have the ability to help others build their businesses in a number of areas, including mission, strategy, technology, web design, search engine optimization and much more. The community is also open to those who may not necessarily be experts in the use of technology and who require a great deal of assistance but are open to learning, growing and ensuring the success of their businesses.

"We help people build a Dream Business, find a Dream Team and live a Dream Life," the global networking platform says. "We help entrepreneurs clarify their vision, grow into Servant Leaders, build a 24/7 high-profit System, partner with a Dream Team and create a Dream Life that changes the world and leaves a powerful legacy. We help entrepreneurs define their vision, develop a success mindset, cultivate daily habits of success, develop the life skills of servant leadership, create a strategic path to profit, deploy cutting-edge tools and software, optimize their systems for impact and leverage, become icons in their field or industry and put together a talented team who help them achieve their Dream Business and their Dream Life."

There are a number of member options to choose from, aimed at allowing a wide range of people to learn from and contribute to the community. Max Community is built on having people from diverse fields and backgrounds contribute their knowledge and skills for the betterment of others in the community. The first subscription plan is free and provides access to the Max hotline, e-newsletter and free vault membership along with a free coaching session. The Advantage subscription plan, priced at $15 a month offers access to tech Tuesdays, coaching and Max team live in addition to all the features that come with the free subscription. There are three more plans which offer even more features, namely the Premium, Pro and Platinum plans, priced at $39, $100 and $250 a month, respectively. While the features each plan offers access to may differ, all users have the opportunity to contribute to the community.
Dr. Greg Sanders, with a PhD in sociology, 30 years of university teaching, and years of entrepreneurial experience, is the man behind Max Community. He is committed to helping members of the community get their businesses working. He says, "I've got my life story, and I'm sure you do too! I would love to meet you and see what we have in common. To meet you and see what an amazing person you are will be my great pleasure. I wasn't always in the arena of technology, or technology support. But I have always been a teacher at heart. Now, personal assistance in the area of technology has never been more needed!"

For more information and to get started, interested parties are welcome to download the MaxCard Networking App through the company's official portals. The Max Community is always looking for new talent and is always ready to help businesses grow.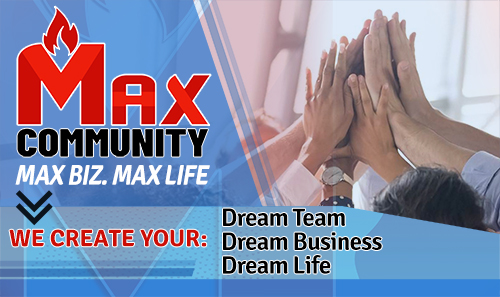 ###
For more information about Max Community, contact the company here:

Max Community
Greg Sanders
6183359468
greg@maxcommunity.us
524 N Locust St
Greenville, Illinois
62246
United States