Sutherland Shire Dentist Provides All On 4 Implants
September 05, 2023 at 18:17
NSW based Sensational Smiles Dental is performing the All On 4 dental implant procedure for patients with advanced dental issues. Given the questions surrounding this procedure, the clinic is also reaching out to help patients learn more about All On 4 implants and the positive change they can bring to a once-fractured smile.
The Sensational Smiles Dental team is known in the area for their ability to tackle a variety of complicated dental procedures, treating snoring and sleep apnea, children's dentistry (involving teeth that are still forming or settling) and more. Among these procedures is the 'All On 4,' which as the name implies, relies on four implants to achieve the desired effect. The clinic says this technique is used primarily for patients who need to have multiple teeth replaced.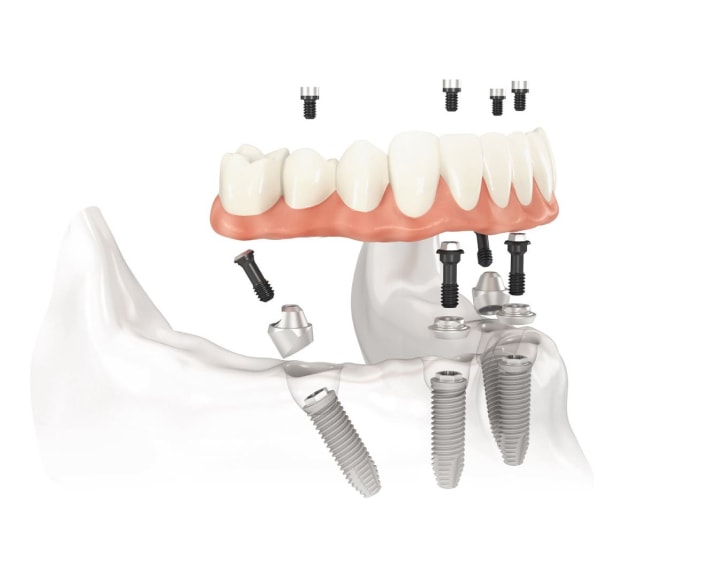 All On 4 implants come with a number of advantages that make them extremely popular among patients, especially those with moderate to severe tooth loss. For instance, despite the fact that the technique utilises no more than four implants, it can support up to 14 teeth if required. As such, it is used for patients who essentially need to have their entire smile rebuilt or replaced. The implants are also surgically placed into the jawbone, serving to avoid another serious issue brought about by certain other dental remedies: bone degradation.
Patients who have used dentures in the past, the clinic explains, had more pressing health concerns to deal with than simply having them slip out of the mouth. When a person chews with their regular teeth, this force is transmitted into the jawbone, stimulating bone growth and helping to keep it strong. Since dentures cannot accomplish this effect, implants are now the preferred option where possible, and they can make sure the jawbone continues to rebuild itself naturally over the years via daily stimulation. Notably, patients can also treat their implants the same way they would natural teeth.
The clinic is led by Dr. Michael Shehata, who also presides over the clinic's most complicated cases to ensure patients have as positive an outcome as possible. Prior to picking up his career in Sydney, he graduated from Griffith University in Queensland, ranked 2nd in his cohort and was made a member of the Golden Key Club for Academic Excellence. Once returning to Sydney, he expanded his foundation as an associate dentist to the area's top talents in the field. This training and experience culminated in him establishing Sensational Smiles Dental in 2010.
Patients further benefit from this expertise since the outcome of any All On 4 implant procedure depends heavily on a number of factors — perhaps chief among them being the skill of the dentist involved. While it is true that any licensed dentist can perform this implant, the quality of their work will also correspond with any additional, specialised training they have received as well as how often they have performed the procedure in the past.
According to the clinic, Dr. Shehata takes the lead on every All On 4 implant procedure as his work is second to none. This assures that patients have the most optimal chance to get the most out of their implant (in terms of recovery time, longevity and so on).
"My family of 5 have been coming to Sensational Smiles for 12 years now," shares Vanessa D. in a glowing review of the clinic. "Dental visits are actually enjoyable, thanks to Dr. Michael and his lovely team. My daughter (14) has been fitted with braces, and my middle son (10) has just had his expanders removed today. The process has been simple and no fuss. In fact my son didn't want them removed today; he had grown so accustomed to having them after four months!"
She adds, "Dr. Michael is very knowledgeable. He is always up to date with the latest technology and medical research. I have some health complications that can affect my dental care and feel completely confident Dr. Michael and the team will always recommend what's best. We always feel well looked after by the friendly, efficient and caring team. Highly recommend this wonderful practice."
Sensational Smiles Dental is eager to help patients fix crooked teeth, replace or rebuild smiles and more, and they encourage everyone to call today to schedule a consultation if they are unhappy with their dental health or appearance. Should a patient be eligible for the All On 4 implant, they are welcome to ask as many questions as they wish during their consultation. See more here: Dentist Sutherland Shire.
###
For more information about Sensational Smiles Dental, contact the company here:

Sensational Smiles Dental
Mariam Shehata
(02) 8544 8607
info@ssdentalclinic.com.au
2/500 Princes Hwy, Kirrawee NSW 2232