Riverside Personal Injury Lawyer: What To Do After Automobile Accidents
December 20, 2021 at 17:11
Napolin Accident Injury Lawyer Riverside, a California based personal injury law firm, is taking steps to educate their community on what they can do following an accident on the road. With several offices across the state, Napolin Accident Injury Lawyer is dedicated to helping their clients with a variety of personal injury cases. More information about the firm can be found here: Auto Accident Injury Lawyer Riverside.
Alexander D. Napolin, founder of Napolin Accident Injury Lawyer Riverside, says, "After an automobile accident, you need to make sure that you seek treatment as soon as possible. It goes without saying for more serious accidents, but the truth is that this philosophy applies across the board. Not only will this ensure that you are safe from hidden injuries, it will also provide you with a stronger case in accidents that happened due to another party's fault. In the eyes of the court, people who seek treatment right away are seen as people who were injured — this means that getting treatment serves as a way for you to differentiate yourself from those who are not injured."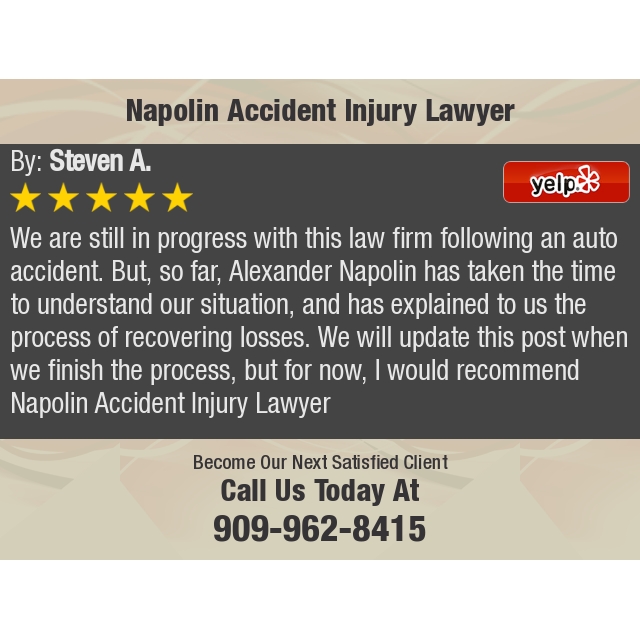 Napolin Accident Injury Lawyer explains that medical documentation is very important in court, especially if the victim is suffering whiplash, spinal injuries, herniated discs, back pain, extremity numbness and so on. Unlike other types of severe injuries (which present visually in the form of broken bones, cuts, bruises, hematoma, fractures, burns and more), these do not manifest in obvious ways. However, victims still need to make sure that they have their subjective complaints documented by a medical professional and get follow-up treatment and diagnostic testing, such as MRI, X-rays, CT Scans, EMGs, etc.
Traumatic brain injuries (TBI) and any other type of concussions will also be very hard to measure by mere observation alone. In such cases, it is likely that a victim who is experiencing symptoms may not fully be aware of their condition. The law firm recommends that any change in behaviour, cognitive lag or deficit should be documented and reported.
Napolin says, "Unfortunately, victims who do not document their injuries and immediately seek treatment for them are less likely to win damages if they take to court against the person at fault. In cases where the injuries are not visible, insurance adjusters and juries will reject your allegations. While it is harsh, insurance adjusters have time and again denied injury claims based upon delays' in treatment. A lot of unsuspecting victims do not realize that their lack of diligence in seeking medical care for their actual injuries lands them solidly in the 'not injured' category, and as such, they can only get a low-ball settlement offer. Of course, this is not what you want when you are seeking damages against someone who has hurt you grievously."
The excellent services provided by Napolin Accident Injury Lawyer have allowed them to earn a reputation as a reliable law firm. On the Google platform, they have a high rating of 4.5/5 Stars. Their Google profile can be found at the following link: Car Accident Lawyer Riverside. Vanessa G. writes in her review, "I had an amazing experience with this firm! Always communicated well and got me a great settlement for my injury case. I highly recommend Napolin for a car accident lawyer if you live in Riverside! Thank you. You are the best!"
In another review, Frankie D. praises the law firm, going on to explain that, "I have worked with this office for several years and have only the best things to say. All of the staff is professional and a hard-working team. And, of course, Mr. Napolin is extremely caring and in my opinion an excellent litigator. I highly recommend them for personal injury cases."
Those who want to learn more about Napolin Accident Injury Lawyer Riverside and their services are welcome to visit the law firm's website. In addition to their website, Napolin Accident Injury Lawyer Riverside maintains a presence on Facebook where they frequently post updates, share media and communicate with their clients. They encourage interested parties to get in touch with Alexander D. Napolin either directly via email or phone or by using the contact form on their website. More information about the company can also be found at the following link: Personal Injury Lawyer Riverside.
###
For more information about Napolin Accident Injury Lawyer Riverside, contact the company here:

Napolin Accident Injury Lawyer Riverside
Alexander D. Napolin
951-200-5035
riverside@napolinlaw.com
5750 Division St., Ste. 202
Riverside, California 92506