Pub Crawl Budapest Announces Its Planned New Year's Eve Party
December 31, 2021 at 00:17
Pub Crawl Budapest, the longest running ruin pub tour in Budapest, Hungary, is pleased to announce their plans to hold a New Year's Eve (NYE) Pub Crawl Party in Budapest that will start at 7:00 pm on December 31st, 2021. They are offering two packages for attending the said event, aside from the "all you can drink" package, which will be available at 80 euros. One package will be available at 49.9 euros per person while the other package will be available at 69.9 euros per person. The meeting point for this NYE Pub Crawl Party will be at Oktogon ter 1. in front of Burger King at 7:00 pm.
Both packages will include a tour of the ruin bars, a welcome champagne, free drinks, NYE gadgets, and NYE party ticket. The difference is that the first package will have the NYE hat as the NYE gadget while the second package will have both the NYE hat and NYE confetti. Also, the second package will include a "power hour," which consists of 40 minutes of unlimited wine, beer, long drinks, and premium shots. It should be noted that for the "all you can drink" package, it can only be booked on the spot for 80 euros.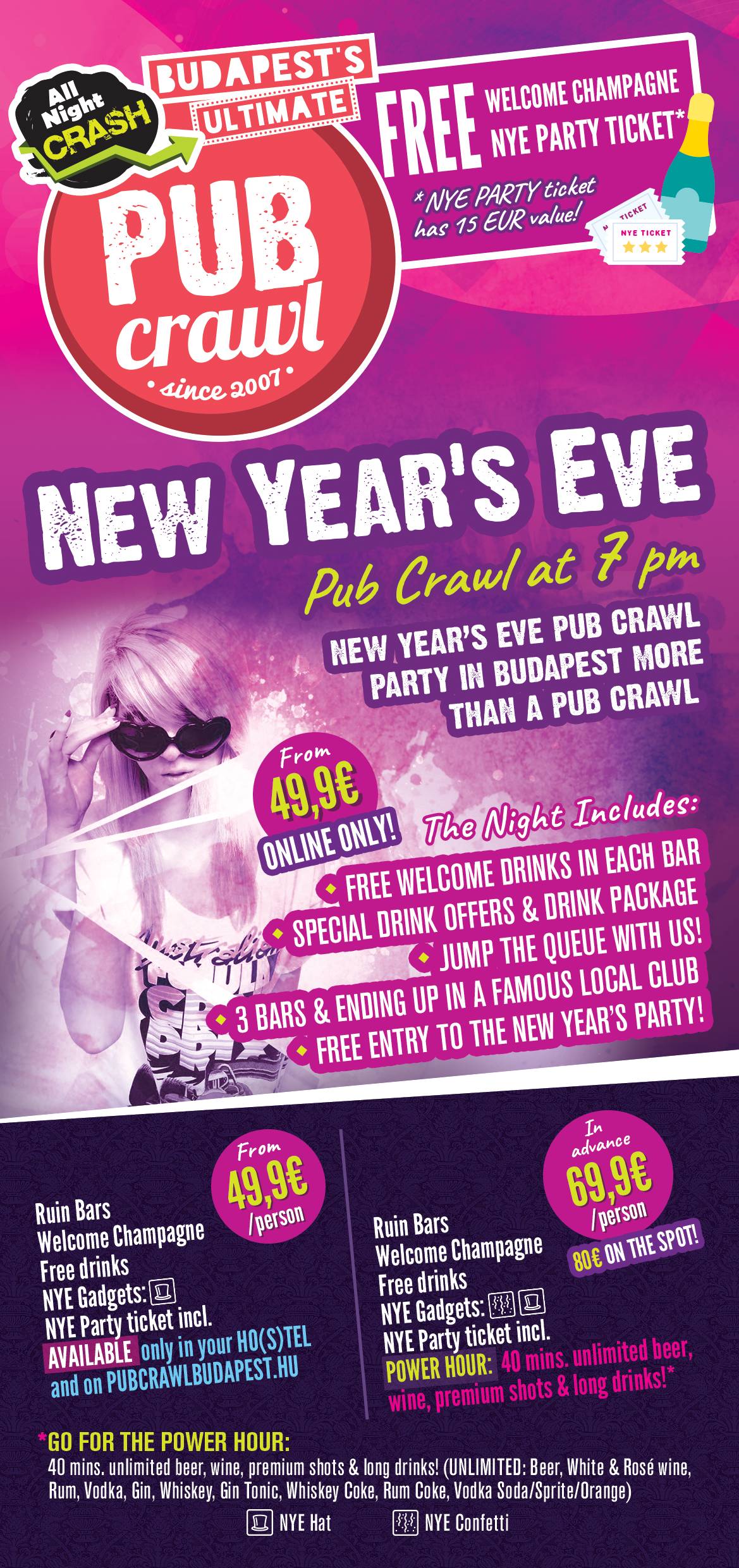 A spokesperson for Pub Crawl Budapest says, "Hungarians like to end the year with a bang, and 2021 is no exception. Many of you may have heard about New Year's Eve in Budapest, as this fair city is becoming an attractive tourist destination. It is no wonder because the New Year's Eve Party in Budapest is definitely the height of debauchery. It is no exaggeration to say that almost all people know weeks in advance where they will be and what they will be doing, because most places will be absolutely packed until the next morning in each and every New Year's Eve Party, and even finding a standing place without prior notice may be more difficult than expected. But this is where we come in."
Pub Crawl Budapest is well-known in the local nightlife in Budapest. They are familiar with all of the bars and clubs, and they are capable of getting a few seats anywhere, at any time, even on New Year's Eve. And because of their reputation with the bars and clubs, which means that their guests can expect the best drinks, the best service, and the best locals. For the Pub Crawl Budapest New Year's Eve Party, participants will be visiting various pubs so everybody is advised to bring with them shoes that are comfortable for walking. And guests should not forget to bring a coat because it will be a cold night although many people will not feel it after doing a lot of drinking. Participants are also advised to eat something before the event because the drinks are expected to be both plentiful and strong.
The Pub Crawl Budapest ruin pub tour is a popular and an award-winning tourist activity in Budapest. It has been recognized by TripAdvisor, having received their Certificate of Excellence award. This award is typically given to restaurants, attractions, and accommodations that have regularly received five star reviews from travelers. This ruin pub crawl is regularly held in the District VII / Jewish Quarter of Budapest and enables tourists and travelers to enjoy memorable moments with their friends while visiting the Hungarian capital.
They offer five different kinds of pub tours in Budapest. These are the: Power Hour Pub Crawl; Stag Pub Crawl; Private Pub Crawl; Wine Bar Crawl; and Beer Pub Crawl. The Power Hour Pub Crawl is for tourists who want to truly party and enjoy the night. It consists of an All You Can Drink package with 40 minutes of unlimited premium drinks. It also includes everything that can be enjoyed in the other pub tour packages.
Those who are interested in the Pub Crawl Tours offered by Pub Crawl Budapest can visit their website, or contact them on the telephone or through email. The bar crawl tours are held everyday, from 9:00 pm to 4:00 am.
###
For more information about Pub Crawl Budapest, contact the company here:

Pub Crawl Budapest
Pub Crawl Budapest
+36 70 771 1775
info@allnightcrash.com
Budapest, Oktogon 1, 1066 Hungary