Phoenix & Mesa Area Home Insulation Contractor Discusses the Many Benefits Spray Foam Insulation Offers
Mesa-based Avalon Home Performance LLC has been providing reliable home insulation services to those in Phoenix and the surrounding areas for many years now. The company attributes much of its success to the way they offer quality work that reflects their expertise in the insulation field and how everything that's done in conjunction with that service is done transparently. Those at the company also believe firmly in the many benefits that spray insulation offers and that's why they wanted to discuss this subject in more detail.
The company owner, Gil, stated, "Ever since we first started offering insulation products, we have talked to our customers about the many benefits that blowing foam insulation into place offers. It simply is a much more practical and effective solution than placing unreliable fiberglass batt insulation in attics and other spaces where insulation is required. Once our customers have experienced for themselves what sprayed-in-place insulation has to offer, many swear they will never even consider going back to using traditional fiberglass batt insulation again."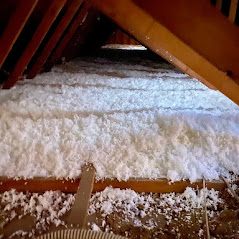 Gil then went on to discuss some of the benefits that spray foam insulation offers. He started by talking about how they offer two different types of this product. One is what is known as open-cell insulation and it's a slightly less expensive, somewhat spongy type of blown-in insulation. The other is denser closed-cell spray foam insulation which becomes very rigid and solid as it dries. The benefits that each of these types of blown-in insulation offers are fairly similar, although the denser closed-cell insulation tends to be the most impactful. It all starts with how they each stay firmly in place once they are applied. He says this means that they also do a very good job of sealing up the cracks in wallboards and roof sheathing that are often found in attics. This also gives spray foam insulation the ability to plug up air gaps which are known to let out expensive cooled air and stop moisture and heat transfer through these spaces too. It can even do such things as negate the conditions that are favorable for attic mold & and mildew growth. The company owner pointed out that blown-in insulation can also block easy pathways for insects and other critters to enter into an attic and it offers some additional structural integrity to the under roof and attic wall surfaces. Spray foam insulation lasts a very long time and it will help customers save on their energy bills and lessen their carbon footprint too. He added that customers will also never again have to feel the itchy and irritating effects of having batt insulation when they venture into their attics to retrieve something that's stored there.
Those that have used this company's attic insulation services have expressed a high level of satisfaction with the results. Dave Epstein stated, "Great experience! Gil came out and provided a very reasonable estimate for the insulation. He is very friendly and easy to work with. His crew came out on the agreed-upon day and time and did a great job blowing the insulation into place. Gil took pictures of the attic before and after and even had me look inside the attic to see their work. Great customer service. No issues were encountered at all. I highly recommend Gil and Avalon Home Performance." Lorretta Legan wrote, "Very professional, was on time, and they were able to answer all of our questions. Great Service, Great prices. We highly recommend them!"
https://youtu.be/qWvDFZpKD0A
Gil went on to mention that they also are one of the most highly recommended sun shade installers in their area and they also are well-known for their exterior painting services. This Mesa-based company provides its home services to those in Apache Junction, Avondale, Casa Grande, Glendale, Guadalupe, Maricopa, Phoenix, Rio Verde, Scottsdale, Tempe, and many other locations in the surrounding areas. Those that would like more information on Avalon Home Performance's blown insulation services can get in touch with them by phone, email, or by filling out the form that's found on the contact page of their website.
###
For more information about https://avalonhomeperformance.com/, contact the company here:

https://avalonhomeperformance.com/
Gil
(602) 502-0114
gil@ahpaz.net
Avalon Home Performance LLC
Mesa, AZ 85205