Phoenix Auto Detailer Offering Advanced Cigarette Smoke Odor Eliminator Service
September 07, 2021 at 14:00
Phoenix-based D.I. Auto Care is a car detailer that prides itself on offering well-rounded vehicle beautification services. That includes taking on even the toughest auto detailing tasks. A good example of that is the reputation the company has established in regards to its Advanced Cigarette Smoke Odor Eliminator Service. Something that the detailing professionals at D.I. Auto Care have had great success with despite its difficulty. Paul, D.I. Auto Care's owner, says, "I have to admit that one of the toughest auto detailing jobs that I am sometimes asked to do is eliminating cigarette smoke smell from a vehicle. That's because it not only coats almost every bit of surface area in a car but also tends to even penetrate fabrics. Don't mistake this for a detailing job that we can't handle though. That's because we have had great success making even cars that have been driven by the worst chain smokers smell almost showroom new. Even pet and other foul odors are no matched for our advanced odor removal techniques."
The company owner went on to describe how they can successfully remove even the foulest odors that are found in automobiles. It all starts with a good general cleaning of the interior of the automobile and then wiping down the entire vehicle and cleaning the glass too. He says this is done to remove the smoke residue which tends to coat every surface in a car. Once they are satisfied with the extent of the surface cleaning, they will then commence doing a complete auto detailing service including steam cleaning the seats, carpets, and other upholstery. The company will even take the time to clean or replace air filters (for a small fee) and clean the vents and many other parts of a car's air circulation system. Paul said that unfortunately, even this high level of surface cleaning and shining is usually not enough to get rid of the stubborn smoke smell and other foul odors. That's why the key step in their cigarette odor eliminator service is the special enzymatic cleaner that they pretreat the interior of the vehicle with combined with the follow-up use of an ozone machine. He says that many auto detailing companies use the ozone machine but fail to combine it with a complete car detailing service to achieve optimal results. According to the company owner, ozone is a powerful sterilizer that uses oxidation to eliminate bacteria, viruses, mold, and other organic contaminants that cause bad odors. When combined with the previously-mentioned enzymatic cleaner, it makes a very potent odor-eliminating treatment.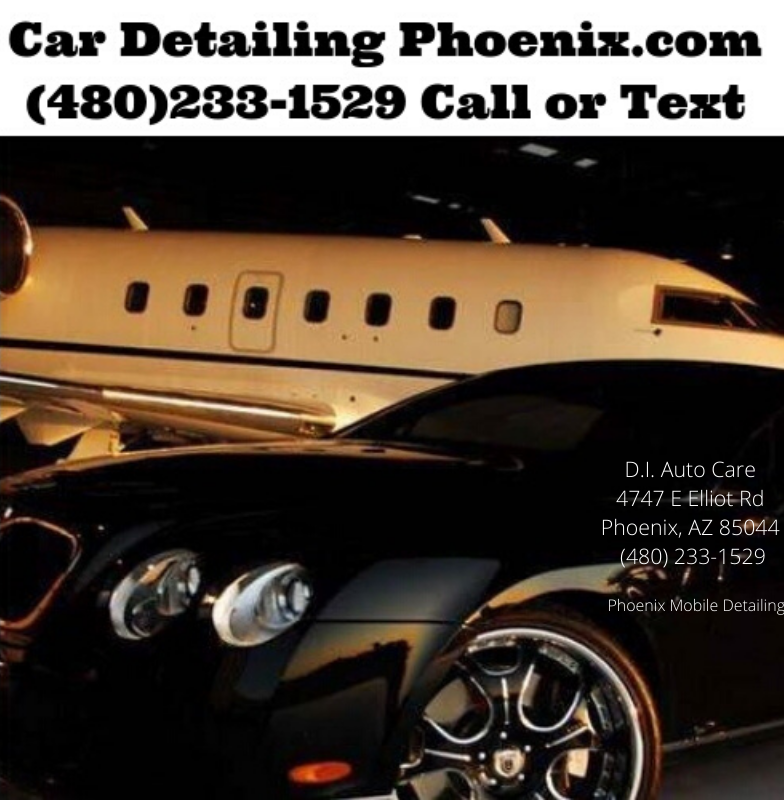 Those in the Phoenix area that have used D.I. Auto Care services to get rid of pet, cigarette, and other odors have been very complimentary about the company's work. Chris Atwood's 5-star review stated, "I had Paul come out to detail my wife's Honda Pilot for our anniversary. Considering we have 3 kids and a dog that we took on a cross country trip in this vehicle to say it needed some TLC is an understatement. The difference between before and after was amazing. My wife was thrilled and there was an amazing amount of work that was put into it. I would recommend DI auto detailing to anyone looking for quality work and attention to detail. I will be using them again." Haylee Jimeno wrote, "Really quick and great service I would recommend and go back to him again when needed. My main concern was to get rid of the nasty smell in my car and Paul was able to do so!"
Paul reminded that in addition to the elimination of bad car smells they offer a full line of auto detailing, auto glass replacement, ceramic coating application, and window tinting services. They are also a fully mobile auto detailing service that can go right to their customers' homes, places of business, or other locations where their car is parked to conveniently get the job done. Car owners in Phoenix and the surrounding areas that want to know more about D.I. Auto Care's cigarette odor removal and other auto detailing services can refer to their website or contact them by phone or email.
###
For more information about D.I. Auto Care, contact the company here:

D.I. Auto Care
Paul
(480)233-1529
pkbagorio1@gmail.com
D.I. Auto Care
4747 E Elliot Rd,
Phoenix, AZ 85044
(480)233-1529