PDL Waste Solutions Offers Dumpster Rental In Madison, Wi
September 14, 2020 at 18:49
PDL Waste Solutions is pleased to announce that they have extended their service to the Madison, WI area. The company is the first in the area to offer online ordering using a dumpster app and dumpster website platform, which means their Madison customers will be able to book a dumpster with ease.

"When you need a dumpster rental in Madison WI, PDL Waste Solutions has you covered," says the waste management company. "We have multiple different-sized roll-off dumpster rentals to choose from so that you can select the size that best fits the needs of your next project. The team at PDL Waste Solutions is proud to deliver reliable dumpster rentals all over the city of Madison WI. We're a local company that cares about the communities we serve, which is why we work hard to make sure that all your questions are answered and your needs are met. We strive to always go above and beyond for our customers, making sure you get the appropriate waste removal equipment as and when you need it. We provide on-time dumpster deliveries, affordable pricing and 5-Star customer service."

Part of PDL Waste Solutions' commitment to customer service is making sure that each customer has all the information they need before renting a dumpster. The hassle-free customer experience the company offers is unique among waste management services, with their online dumpster booking service being a very useful tool for anyone looking to book a dumpster.

The process of booking a dumpster is quite simple, consisting of five steps. The first step is to choose the dumpster size needed. PDL Waste Solutions has a number of options available, with customers being able to choose between a 10, 15 or 20 yard option. The second step is to select a delivery and pickup date, and then they can move on to the third step where they are prompted to enter their contact, delivery and payment information. After the payment is processed, customers receive a confirmation receipt via email. Finally, a few days before the delivery date, PDL will get in touch to schedule a convenient delivery window.

PDL is considered the number one source for junk removal, clean out, skid steer work and dumpster rentals among their clients. "We are dedicated to giving you the best service possible," says the company. "We are very dependable, punctual and have the best customer service. Our company was founded in 2018. PDL has a passion for helping others and, most importantly, being eco-friendly. We are hoping you enjoy our dumpsters as much as we enjoy renting them out to you. If you have any questions or comments, please don't hesitate to contact us."
There are a number of reasons to want to rent a dumpster. When trying to get rid of excess junk and clutter, renting a dumpster may be the most convenient way. PDL's junk removal allows customers to get rid of their junk quickly using the company's same day service.

A number of people have made use of PDL Waste Solutions' services, and many have in turn left great reviews. "This business has nothing but good reviews because they are great," says a review from a Google Maps user named Cara. "So good in fact that this is my second review just to hopefully send at least one other person their way. Fast, courteous and easy to contact. It may not seem like getting a dumpster would leave an impression, but these guys really did an exceptional job!"

Another 5-Star review on the same platform states, "We needed a dumpster delivered last minute. We called PDL waste solutions, and they were able to come out and deliver one! Extremely pleased with their customer service and the speed of their service. Will definitely be using them for all future project dumpster needs! Thank you PDL! Recommend them to anyone in the area!"

For more information on PDL Waste Solutions, visit the following page: https://www.pdlwastesolutionsllc.com/dumpster-rental-madison-wi/. The company is always ready to help with any and all waste management related issues.
https://www.facebook.com/PDLRollOffDumpsters/videos/250083379399212/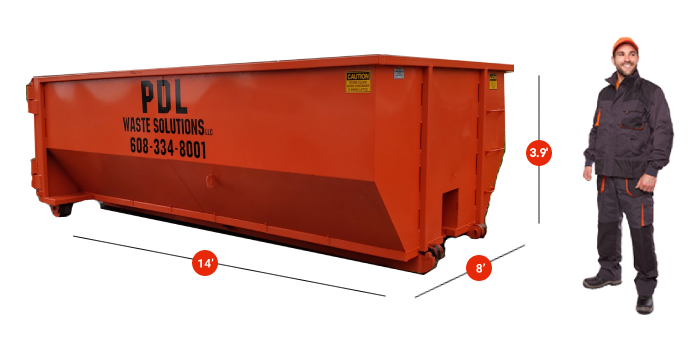 ###
For more information about PDL Waste Solutions, contact the company here:

PDL Waste Solutions
Phillip Lund
(608) 334-8001
pdlwastesolutions@gmail.com
Edgerton, WI 53534