Mobile Party Solutions Portable LED Mini Golf Fast Becoming a Big Hit
February 05, 2021 at 00:58
Mobile Party Solutions announces that they are now offering LED portable mini golf rentals for their customers' parties and other events. This Mobile, Alabama party and event fun provider is always looking for games and other attractions that will help make people's parties and events a success. Miniature golf is a game that has been overwhelmingly popular since the first version of it, called 'Tom Thumb Golf', appeared back in 1927. The company is already seeing signs that it will soon be among its most popular party and event offerings.
The company's owner, Ryan Whitehouse, says, "We added mini-golf to our party and event offerings because we thought many people would like the versatility that this game offers. But we had no idea it would be such a big hit. Our customers' have been raving about what fun their guests had playing it when we go to pick it up."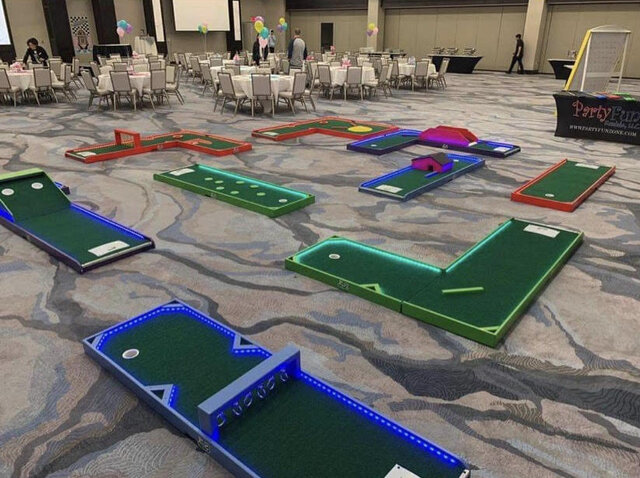 Whitehouse went on to talk more about one of their newest party and event games by saying that at the current time, they are offering 3 different mini golf setups. This includes 3, 6, and 9-hole setups. This versatility also makes it appropriate for all size events. He says that it's also perfect for indoor or outdoor events and because of its LED lighting, it can be used for nighttime or low lighting events too. The company spokesperson added that this is not some cheesy miniature golf set either. Each hole has a solid wood frame, a thick felt surface, and various fixed obstacles. Even the putters are the real deal. He says that there are 21 putters in all to choose from, so anyone who is of any age or height can find one that's suitable for them. There is also a big assortment of colored, low-bounce golf balls that are delivered right along with the setup. It's also a great game for providing socially distanced fun at a party or event. Whitehouse stated this is because each hole comes as an individual unit. That means they can set up the course with holes as close or as far apart as the customer prefers. The golf balls and putters can easily be sanitized after each user too. Customers can get more information on the company's portable LED mini golf games here at https://www.mobilepartysolutions.com/category/led_portable_mini_golf/.
Portable LED mini golf is a nice addition to their already big selection of party and event games and attractions. Some of their other party and event offerings include bounce houses, wet & dry slides, obstacle courses, and many other assorted inflatables. Whitehouse says that many of these are themed which makes them very popular among children of all ages. He added that they have everything a host needs to keep their party or happening from becoming a dull event.
The company has been getting many glowing reviews from their customers on their party rental offerings too. Whitney Townsend shared, "We got the dream castle bounce house for our 5-year old's party. Absolutely awesome and super cute. The kids had a blast. Set up and clean up were taken care of by staff. Super affordable and clean. The staff was quick to answer questions and easy to contact if needed. Highly recommend. We will be renting from them in the future!" Benjamin Bowen wrote, "Great prices, great service, reliable, and easy to work with. They are also always honest and on time. You can't find a better place to get moon bounces from! Very satisfied customer!" These reviews were taken from Mobile Party Rentals Google Maps Business Listing where every reviewer rated them 5 out of a possible 5-stars.
https://www.youtube.com/watch?v=intx8kAYl_Y
The company provides party games and attractions to a very wide area around Mobile too. This includes Biloxi, MS; Destin, FL; Gulf Shores, AL; Panama City, FL; Pensacola, FL, and Spanish Fort, AL. More information on their party and event services can be had by calling them, sending them an email, or by referring to their website.
###
For more information about Mobile Party Solutions, contact the company here:

Mobile Party Solutions
Ryan Whitehouse
(251) 219-8334
mobilepartysolution@gmail.com
23282 Wilson Dr, Loxley, AL 36551