Local Realtor Talks about the Changes in Palm Springs After News of a Gay Resort Going for Sale
Palm Springs Area Real Estate, a California company that specializes in Palm Springs real estate listings, likes to keep their clients abreast of current real estate-related events that happen in their area. That's why they wanted to specifically highlight two real estate-connected events that have gotten some recent press in their area. One has to do with the potential changes that may take place in Palm Springs after news of a long-established gay resort going for sale broke out and the other news story talked about pandemic-related changes that impacted last year's 'Palm Springs Pride' street festival that's held in the popular Arenas Road area.
The first real estate event was brought to light in a news story that was posted in the Tuesday, Dec 22, 2020 edition of the Bay Area Reporter. That publication has been proudly serving San Francisco's bay area LGBTQ community for over 50 years now. This recent news story had to deal with two long-time co-owners putting one of Palm Springs' best-known gay resorts up for sale. The sale of this resort known as 'INNdulge's', had the potential to shake up the area based on who purchased the property. To avoid that, the current owners, partners Jon Jackson and Sandy Miller, put some stipulations in the sale that would prevent any major changes in the vibe of this popular Warm Sands resort from taking place. This is something that had become a major concern due to three other resorts being converted to more mainstream types of resorts over the last three years. This included the popular All Worlds gay resort being converted to a heterosexual swinger's establishment in 2019. In the news article, the partners were quoted as saying why they made certain stipulations before any sale can take place. "We've spent the last 10 years improving the property into a luxury gay resort," Jackson said. "We wouldn't want someone coming in and destroying the concept. We've built a strong clientele who have come to rely on Palm Springs and INNdulge as their yearly vacation destination. We care too much for them to let a new buyer take away the magical place they all know and love." The property has a current estimated value of $10.8 million.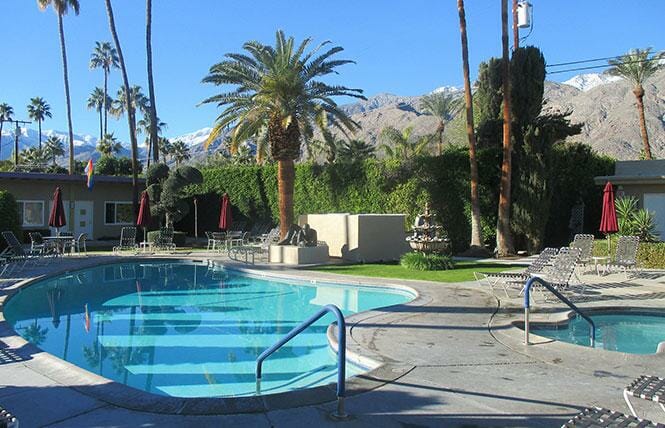 In other Palm Springs News, the second highlighted article talked about how the pandemic had affected but not ruined the annual 'Palm Springs Pride' street festival on Arenas Road. This news story was first released in the November 6, 2020 edition of the Desert Sun. The news story mentioned how the numerous gay bars on Arena Road, which normally experience a booming business in November during the area's annual pride festival, had to settle for something less this year due to concerns over virus spread. The article pointed out that it took some creativity on the committee's part that puts on the annual event to still make this year's Palm Springs Pride street festival a success. This included such things as the introduction of virtual and drive-in events instead of the more traditional in-person events which are known to attract thousands. The gay bar owners were limited to outdoor-only activities due to the purple tier restrictions that were put in place as a result of the rise of coronavirus cases at the time. They were also restricted to mandatory food sales along with any alcohol purchase. The event got a big boost from associations such as the Palm Springs Art Commission who set up public art for display and loaned tables, chairs, televisions, and music to establishments to help liven up the event.
https://www.desertsun.com/videos/life/2020/11/06/video-palm-springs-pride-2020-hosts-virtual-events-stay-safe-during-pandemic/6189347002/
Palm Springs Area Real Estate is pleased to help bring those in the Palm Springs area news on current real estate-related happenings. The company is led by fifth-generation Californian Geoffrey Moore. They specialize in helping clients buy and sell properties with their keen insight into Palm Springs Area Neighborhoods Listings. It's a service that this experienced and successful Certified Residential Specialist (CRS) and Graduate of the Realtor® Institute (GRI) does for buyers at absolutely no cost to them. Those that are looking to buy and sell Palm Springs, California area properties can contact Moore and his associates for help with this by email, phone, or by filling out the form that's found on their website's 'contact us' page.
###
For more information about Palm Springs Area Real Estate, contact the company here:

Palm Springs Area Real Estate
Geoffrey Moore
760 641 5689
jhnyguitar@gmail.com
Palm Springs Area Real Estate
PO Box 5297
Palm Springs, CA 92263
(760) 641 5689
https://palmspringsarea.realestate/e>