Leader in Houston Bounce House Rentals Takes Delivery of 30 New Popular Themed Inflatables
October 05, 2020 at 22:03
Martibird Inflatables is one of the preferred companies in Houston that people turn to when it comes to bounce house rentals for parties and special events. That popularity has created a huge demand for their products. The company is pleased to announce that to better meet that demand, they have ordered and received 30 new themed inflatables. Now more people than ever can enjoy their popular Houston bounce house rentals. This also adds to their already best selection of bounce house rental choices in the Houston Metro area.
Jason Wasson, a spokesperson for the company, says, "This has been a crazy year for everyone across the country and the Houston area is no exception. Circumstances have left everyone from children to adults feeling isolated and stressed out. Well, we at Martibird Inflatables are happy to help change that by offering inflatables and other rental products that will enhance the fun at birthday parties, graduations, corporate events, and more. With the addition of our new 30 themed inflatables, we are looking forward to being able to bring even more enjoyment into the lives of children, teens, and adults in the Houston area."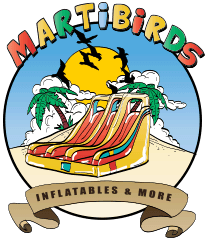 According to Wasson, adding all of these new inflatables will enable them to give kids and other customers more choices when it comes to the themes of the inflatable bounce houses that they offer. This includes baseball, superhero, movie, Texas football, and kids show themed inflatables. They also have girl castle combos, extreme dance party, carnival frenzy, Disney, and dump truck style inflatables for rent. He added that they also offer inflatables especially designed for toddlers and ones that are seasonably themed to enhance the fun times at any holiday party. Many examples of their inflatables can be seen in photos on their Facebook page at https://www.facebook.com/Martibirds01/.
The company spokesperson says that the fun doesn't stop with just their inflatable bounce houses either. They also offer mechanical bulls, inflatable slides, obstacle courses, interactive games, and equipment that enables people to have some crazy fun foam parties. He says that they even have dunk tanks that are perfect for charity fundraisers and they can also supply tables and chairs that can be delivered right along with their inflatables and other fun products. In addition to that, Martibird Inflatables also can supply concession machines and the supplies for those machines. Those looking for something fun and different can also rent a super-sized outdoor movie screen from the company complete with a generator so it can even be set up at remote locations.
Wasson said that ordering one of their inflatables or other fun enhancing products could not possibly be easier as it can conveniently be done online. All a customer has to do is first to select the inflatable bounce house of their choice. Once that's done, he says that a customer will then choose the date of the event that they want their inflatable bounce house delivered by the company. Next, they will fill out their contact information and then make payment. The company spokesperson says after this is done, they will send the customer an email confirmation of the rental reservation, so they can start to get excited as they anticipate the hit that their Martibird fun product will be at their party.
People in Houston and the surrounding areas can also take a look at several videos on Martibird Inflatables bounce houses and other fun products. Those videos can be seen here at https://www.youtube.com/user/Jbird69stang/videos. People who look at these videos can see some of the different themed bounce houses that the company offers such as their Ninja Warrior and 'Star Wars' Millennium Falcon themed inflatables. There are even videos on the mechanical bulls, trackless train rides, and foam slide products that the company rents.
Wasson went on to say that all of their products and pricing can be seen on their website. Customers can even see photos of each of their products online and check the availability of the inflatables or other fun products that they want on their preferred dates.
###
For more information about Martibird Inflatables, contact the company here:

Martibird Inflatables
Jason Wasson
(832) 414-0837
jbird201082@gmail.com
Houston, TX