Finance and Commerce Readers Again Recognize Minneapolis/St Paul Real Estate Appraiser as One of the Best in the Area
January 14, 2021 at 17:23
Minnesota Real Estate Appraisal is proud to announce that for the second year in a row they have been listed among the top two real estate appraisal companies in the Minneapolis area. This recognition comes from the legal paper of record, Finance & Commerce, which serves those in Minneapolis and Hennepin Counties in Minnesota. The award is based on a poll of this online publication's many readers in regards to the service they have received from Minneapolis and Hennepin County law firms and other businesses throughout the previous year. The 'Best Appraisal Companies' was the category that Minnesota Real Estate Appraisal was given their 2020 Finance & Commerce Reader Ranking Award for.
The company owner, Clark Goset, says, "We are proud to be recognized for our quality real estate appraisal services by such a reputable area publication as Finance & Commerce. It means even more to us that this was an honor that was voted on by many actual customers and not just a few well-connected people. This recognition shows that the hard work that we put into coming with accurate real estate appraisals for our customers and the courteous way that we treat them while doing it, is something that they appreciate. Being recognized once by this online publication is an honor, so you can bet we will work even harder this year to be recognized by them for the third year in a row."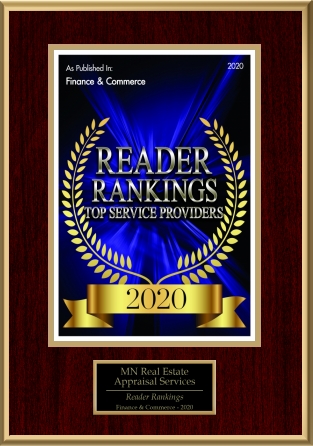 Finance & Commerce first started recognizing Minneapolis and Hennepin County law firms and other businesses with their Reader Ranking Awards in 2017. Since that time, only the best of the many law firms and other businesses in these areas have managed to find a place at the top of the Reader Ranking Award list. The online publication states that to get recognition on these rankings a Minneapolis and Hennepin law firm or business must have proven to be among the most trusted brands and business partners in the area. Companies have to be nominated by their clients to be added to the survey list that circulated among Finance & Commerce's readers. When the votes were all tallied in August, Minnesota Real Estate Appraisal once again found themselves being recognized by this online publication. There were some 80 rating categories on the survey. Besides the 'Best Appraisal Companies' category, samples of other categories include the 'Best Court Reporter and Deposition Service', 'Best Mechanical Engineering Firm', 'Best Landscape Design Company, and the 'Best Legal Liability Insurance Company'.
This recognition comes on the heels of some other good news about local property values that this Minneapolis area real estate appraisal company discussed in a recent press release. That press release talked about how yearend real estate appraisals showed promising results despite the ongoing pandemic that is sweeping across the country. In the press release, Goset stated that this projects to a rosy outlook for the upcoming year as home sales picked up during the 4th quarter of 2020 despite people buying and selling homes under less than desirable conditions.
Goset said he believes that his company's real estate appraisal services are so popular and get recognized with honors such as the 2020 Finance & Commerce Reader Ranking Award because they always operate with integrity and accuracy at the forefront of the business. They also bring over 40-years of experience with them to every commercial, industrial, residential, land, and multi-family residential project that they take on. He stated that nothing outweighs experience when it comes to producing accurate appraisals that their customers and others who refer to them can trust. There is no type of property appraisal that they are not qualified to do. The company owner also mentioned that their appraisals are done in such an accurate and verifiable way that they are legally defensible in a Minnesota court of law.
Individuals looking for a real estate appraiser in Minneapolis and Hennepin Counties can contact Minnesota Real Estate Appraisal by phone or email and get more information about the services they offer by referring to the company website.
###
For more information about Minnesota Real Estate Appraisal Services, contact the company here:

Minnesota Real Estate Appraisal Services
Clark Goset
(612) 618-0917
cgoset@reappraisalsmn.com
2212 Midland View Ct N, Roseville, MN 55113