Elmore Dumpster Rentals Holds Grand Opening in Ithaca New York
September 25, 2020 at 16:02
Elmore Dumpster Rentals has held its grand opening in Ithaca, NY, to offer rolloff dumpster rentals for both residential and commercial applications. They are a locally owned and operated company that offers dependable hook-lift dumpster rentals. They provide a simplified online reservation system that clients can access at any time, making it easy to get a quote, reserve, and schedule a waste removal bin. They offer various sizes of residential dumpsters and commercial dumpsters. These are the 10 yard dumpster, 12 yard dumpster, and 15 yard dumpster.
A dumpster is a kind of movable waste container and the rolloff dumpsters offered for rental by Elmore Dumpster Rentals are commonly used for residential or commercial construction projects that tend to have a high volume of waste materials. They may also be convenient for homeowners doing a thorough cleaning of the home, such as spring cleaning. They may also be used for home renovation or demolition projects where large amounts of waste material need to be carried off to a waste disposal facility.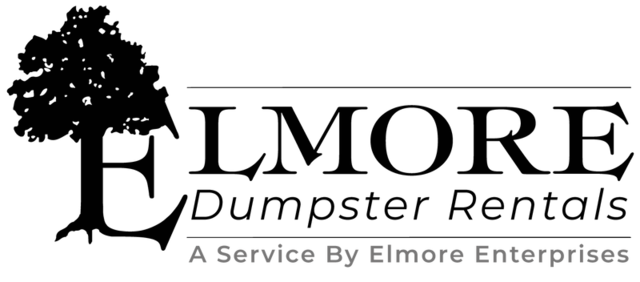 The 10 yard dumpster is 12 feet long, 8 feet wide, and 3 feet and 8 inches tall. Its volume capacity is 10 cubic yards. The volume of material that it can contain is equivalent to four pickup truck loads of material. The 12 yard dumpster is 12 feet long, 8 feet wide, and 4 feet tall, and has a volume capacity of 12 cubic yards. It is equivalent to five pickup truck loads of material. The 15 yard dumpster is 12 feet long, 8 feet wide, and 5 feet tall. It has a volume capacity of 15 cubic yards. This equivalent to six pickup truck loads of material.
Rolloff dumpsters are open top dumpsters that have been designed to be transported by special rolloff trucks. Residential dumpster rentals make it easy to dispose of waste from residential and commercial projects. Clients are able to avoid carrying the waste materials to the landfill. Instead, they simply toss them into the bin and Elmore Dumpster Rentals will take care of transporting the rolloff dumpster to the landfill, recycling center, or other type of waste disposal facility. The dumpster rental company will be paying the landfill, recycling center, transfer station, or other kind of disposal facility. Elmore Dumpster Rentals charges per 1 ton of waste material for a number of days, and depending on the size of the dumpster. Additional fees would be charged for additional days and additional ton of material.
With regards to how Elmore Dumpster Rentals stands out among the crowd, Tony Elmore says, "We're dedicated to providing our local area with the best trash dumpster rental service available. We created a streamlined rental system that simplifies the process for you and is completely hassle-free. So whether you need a small dumpster to clean up the waste from your bathroom remodel or you need a large bin to take care of the debris from a home renovation, we'll make sure that you have the most efficient container for the job and that it's delivered right where you need it. No matter what kind of project you have or what type of junk you need to get rid of, you can count on our team to show up on-time and to professionally deliver your dumpster."
They also make sure to comply with local waste disposal regulations, always disposing of the client's waste material and junk properly. They also contribute to the effort to keep the local landfills clean and sustainable. Thus, they will not accept hazardous waste materials, such as batteries, paints, chemicals, asbestos, oils, and other materials that are deemed to be hazardous for the environment.
Booking a dumpster online with Elmore Dumpster Rentals is a simple step-by-step process. The client chooses a dumpster size and then a delivery and pickup date from company's calendar. Next, the client enters the delivery, contact, and payment information securely. The company will then process the payment and send a receipt to the client via email.
Those who are interested in residential or commercial dumpster rentals in Ithaca, NY, may want to check out the Elmore Dumpster Rentals website, or contact them on the telephone or through email. They are open from Monday to Friday, from 9:00 am to 5:00 pm.
###
For more information about Elmore Dumpster Rentals, contact the company here:

Elmore Dumpster Rentals
Tony Elmore
607-422-8463
info@elmoredumpsterrental.com
96 Applegate Rd N Ithaca, NY 14850