Electronic Merchant Systems Offers Gift and Loyalty Card Program
October 19, 2021 at 15:06
Electronic Merchant Systems (EMS), a company based in Cleveland, Ohio, has announced that they are offering a Gift and Loyalty Card Program. As a payment processor, they provide intuitive tools and services for small businesses and one such service is the Gift and Loyalty Card Program. Gift cards provide a fantastic way for businesses to keep their customers engaged, attract new customers, boost customer retention, and drive sales. It is also critical to note that studies have shown that most customers will spend more than the amount indicated in the gift cards. For this program, EMS has a team of creative professionals who will assist customers in designing and creating business cards that are fully customized for small businesses.
With the above-mentioned program, Electronic Merchant Systems can help businesses with regards to various opportunities. These include: the building of brand awareness; an increase of profits and cash flow; attainment of a higher volume of purchases; attracting of new customers; and driving customers to the business more frequently. This is because gift cards can be used as prizes, thank you gifts, stocking stuffers, and more. With every gift card sold, the business gets the opportunity to welcome a new customer. The experience of these new customers begins when they receive the gift card, which means that it has to be visually attractive and properly represent the business. It has been shown that the act of rewarding customers for their loyalty can drastically boost foot traffic and the profitability of the business.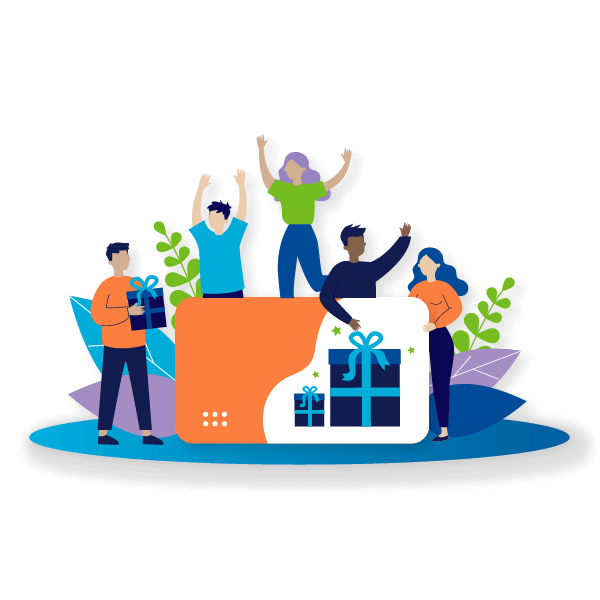 EMS supports a significant number of loyalty program configurations to help businesses to engage, retain, and grow their customer base in such a way that is the most sensible for the business. Their customer support team is always ready to help customers, in answering questions, overcoming challenges, and educating customers about products and solutions that they provide. They can be contacted through the phone or an online form on their website.
EMS has established partnerships with reputable companies that provide payment gateways in order to offer the best possible solution. Whether the business requires a website, payment gateway, online shopping cart, or some other customized application, EMS has the resources to build a tailor-fitted solution that will last for the business.
EMS helps in improving the payment experience for the customers. This can be done through virtual terminals, payment SDKS and APIs, and cost-effective web services. Through virtual terminals, businesses can send a customized email invoice for services provided or set up a recurring billing schedule for customers who will be making regular monthly payments. With payment SDKs and APIs, businesses can easily integrate payments into their selling platform through EMS's connections with leading payment gateways. The improved development features provided include: pre-certified SDKs, mobile-optimized design, tokenization, and APIs.
With the company's pre-certified SDKs, businesses are able to integrate payments into any application, including mobile apps, with native SDKs. These integrations can be done on Windows, iOS, Linux, and Android operating systems. Businesses will also be able to easily embed responsive payment forms that are mobile-friendly on their payment gateway. This will ensure an efficient and streamlined payment experience for customers who use a mobile device to make an online payment. And businesses are able to reuse tokenized cardholder data from past transactions without the need to store the data or secure it. And they currently support Client JS, Payment Engine Terminal API, Rest API, Transaction API, and Soap API.
Founded in 1988, Electronic Merchant Systems has evolved into a top provider of payment processing services. They process and safeguard various kinds of electronic payment transactions including all major credit cards, debit cards, stored-value, electronic check services, and EBT. They provide 24/7 service and they have served tens of thousands of retail, start-up, and Internet businesses nationwide.
Merchants who would like to discover more about Electronic Merchant Systems and the different payment processing solutions they are offering can visit their website, or contact them through the telephone.
###
For more information about Electronic Merchant Systems, contact the company here:

Electronic Merchant Systems
(800) 726-2117
info@emscorporate.com
250 W Huron Rd #400
Cleveland, OH 44113