Dumpster Rental Services Available In Midland
December 11, 2020 at 21:24
Midland, TX-based Let Us Dump It is pleased to report that customers may continue to avail their dumpster rental services at any time. While issues, such as the pandemic, may pose multiple challenges, the company reassures their customers that they have implemented new measures that will minimize or even eliminate any reduction in service. Should any member of the community have any inquiries, however, they are welcome to reach out to the Let Us Dump It office for further details.
The team at Let Us Dump It makes customer service their foremost priority during every rental. From the moment the customer first gets in touch to request a dumpster, the company makes it their mission to ensure a smooth and reliable waste disposal service that takes every requirement into account and causes no unnecessary hassle. In practice, this means that customers will benefit from the team's expert advice regarding what dumpster size they need for their purposes, the dumpster will be delivered to a convenient location in a timely manner and both the dumpster and its contents will be swiftly taken away on the due date.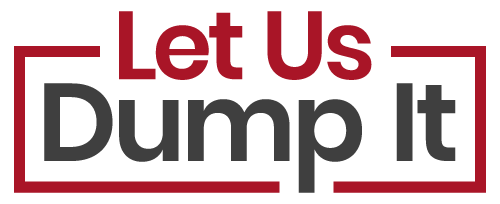 Furthermore, Let Us Dump It is a local family-owned-and-operated company that understands what homeowners and businesses in Midland need. In addition to providing exceptional customer service, for instance, they also endeavor to offer the best prices in the area, making their services some of the most accessible and affordable in the field.
Customers may approach the company to rent one or more of a variety of dumpsters, ranging in size from their 11-yard variant (at $300) to their 25-yard variant (at $450). These dumpsters are virtually identical in every respect, save for size and capacity, which means that customers can expect a sturdy and reliable dumpster no matter which one they choose. Let Us Dump It is ready and willing to work with a variety of customers as well, from construction crews to commercial enterprises and residences. As such, their extensive experience allows them to accommodate many different requirements and schedules in order to ensure their customers experience a negligible impact on their activities. In fact, the company strives to deliver a service that actively helps their customers remain on schedule.
To ensure their services are as accessible as possible, the company has also enabled an online portal (through their website) that customers may use to place an order. On the website's homepage, for instance, each dumpster type (11 Yard, 15 Yard, 21 Yard and 25 Yard) is prominently featured near the top, with each listing accompanied by a 'Book Online' button. Clicking on one of these buttons will instantly take the customer to a full page describing the dumpster's specifications as well as offering insight on what kind of projects it is ideally suited for.
Should the customer feel confident that they have found what they need at this point, they are welcome to proceed with the transaction by filling in their details on the next page. However, Let Us Dump It gives customers who are unfamiliar with dumpster rentals the option of getting in touch with a company representative in order to discuss their full requirements. The team will be pleased to guide them to the right dumpster for their needs.
For instance, the 11-yard dumpster is considered apt for cleaning up after a small landscape project, clearing out a garage or attic and even removing the detritus that accompanies home remodeling projects. Meanwhile, the 25-yard dumpster is more useful for projects that generate a great deal of waste, from full-scale home demolitions to large landscaping projects and so on. Notably, the rental process is incredibly quick, with the company able to guarantee a dumpster within 24 hours (next-day rental). This means that they are still able to cater to various requirements on short notice, no matter how big or small.
https://www.youtube.com/watch?v=3k-VeuEaGYs
Those looking for a swift and effective dumpster rental in Midland are welcome to contact Ricky Hickey of Let Us Dump It to get started. Additional information can be found on the company's website as well. Similarly, customers may connect with the Let Us Dump It team via their preferred social media channels to stay abreast of new offers and announcements.
###
For more information about Let Us Dump It, contact the company here:

Let Us Dump It
Ricky Hickey
(432) 556-2894
letusdumpit2020@gmail.com
4403 North County Road 1140, Midland, TX 79705