D.I. Auto Care Describes What Makes Their Interior Detailing Services Excellent
September 03, 2021 at 00:20
Phoenix, Arizona-based D.I. Auto Care is reaching out to share information on the many factors that make their interior detailing service one of the best in the area.
Paul, a representative of D.I. Auto Care, says, "Detailing a vehicle's interior takes much more consideration, thought and effort than most people realize. Yes, it involves the vacuuming and cleaning of all surfaces, but it is also much more than that. Some spaces require more attention and care than others, and what may work to clean one surface may be useless when cleaning another. If you try to detail a vehicle's interior without much forethought, you will end up with a mediocre result at best. If you are not familiar with the products you are using, you could potentially end up damaging the interior of your vehicle permanently."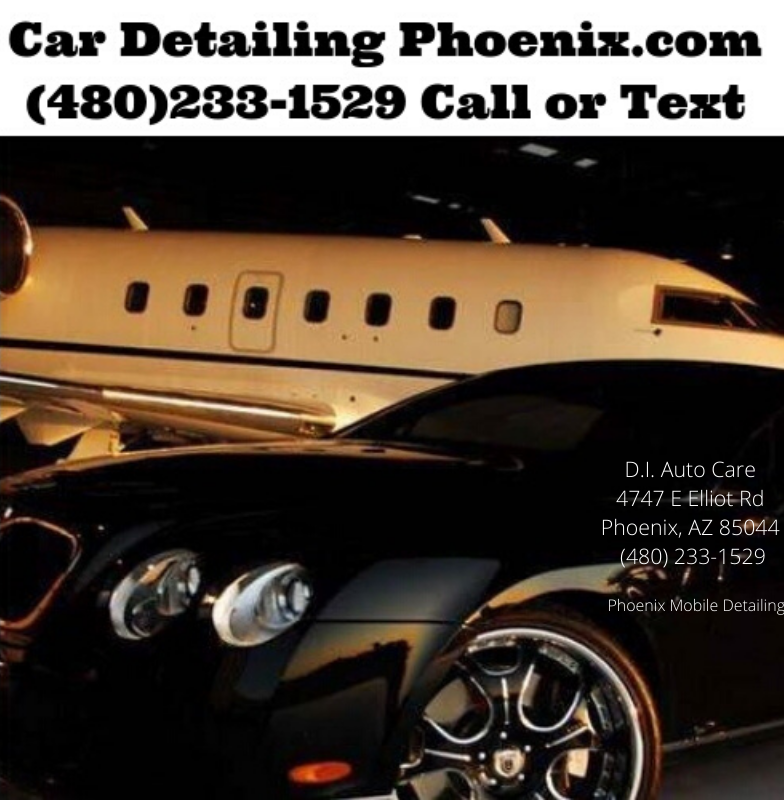 For a car enthusiast (such as those who may want to have their car serviced by a professional detailing shop) the possibility of damaging their prized possession in this way is unacceptable. D.I. Auto Care appeals to such vehicle lovers, offering professional interior detailing services, carried out by experts who guarantee that each customer's vehicle is being cared for by the best people and the best products.
Paul says, "We take care of our community's vehicles as if they were our very own. We pay close attention to make sure that it is all done according to your specifications, desired result, and of course, what is best for the vehicle. Our team is highly prepared to deal with any situation that is thrown at us. They have worked in the car interior cleaning industry for several years, learning about various materials, products and what combination produces the best results without damaging surfaces. We only use the best products, so you can rest assured that your vehicle is in the most capable hands."
According to the local shop, several aspects need to be considered for an interior detailing project to be successful. The process itself will depend on the material that the surfaces are made of. Carpets, seats and other upholstery need to be cared for separately with different products and processes. The interior plastic, leather dash and cup holders also need to be treated differently to keep from damaging the interior trim pieces.
D.I. Auto Care's excellent services, along with their outstanding attention to detail, has earned the local shop a distinguished reputation among local residents. Presently, they enjoy a rating that places them among the best car detailing shops in the area. They possess an overwhelming amount of positive comments from satisfied customers as well, who have taken to multiple reviewing platforms to share their experiences and recommend D.I. Auto Care to others.
One of their most recent testimonials, shared by Cole S. on the Google platform, says, "My wife scratched her window tint on her SUV. I had D.I. Auto Care come to remove the film and re-tint it. I was talking to Paul and found out he also does detailing, so I had him detail my McLaren. Awesome service, and I was very impressed. I will use him again."
Paul K. also shares his experience with the shop, saying, "Just had my windshield replaced and also removed my old window tint and re-tinted the windows a little darker. Service was excellent. He came to my office. Very easy and painless, I didn't need to take off of work to get it done."
D.I. Auto Care's services are available in the Phoenix, Scottsdale, Paradise Valley, Fountain Hills, Tempe and Mesa areas, among several others. For their customers' convenience, the shop also offers mobile interior detailing services, which are available on a much more flexible schedule throughout the week.
The company's website offers more details on D.I. Auto Care and their services. Interested parties may reach out to Paul to follow up on any inquiries. Alternatively, they may fill out the contact form on their website and wait for the company to get in touch.
###
For more information about D.I. Auto Care , contact the company here:

D.I. Auto Care
Paul
4802331529
paul@cardetailingphoenix.com
D.I. Auto Care
4747 E Elliot Rd
Phoenix, AZ 85044
Phone: (480) 233-1529