Cook's Florist & Flower Delivery: Bringing Artistic Floral Designs and Unparalleled Service to Runnemede, NJ for Over 75 Years
Runnemede, NJ - Cook's Florist & Flower Delivery has proudly been the go-to floral destination for the community of Runnemede and its surrounding towns for over 75 years. As a cherished family-owned business, Cook's Florist & Flower Delivery has established itself as a pillar of the local community. Situated just a few miles away from Philadelphia, PA, this florist has gained widespread recognition for its exceptional selection of floral designs, cut flowers, and plants. With a team of dedicated and talented individuals, including the award-winning owner Michael Boskey, Cook's Florist & Flower Delivery consistently strives to surpass customer expectations through its innovative and creative designs.
Being a full-service florist, Cook's Florist & Flower Delivery offers worldwide delivery services, catering to both special events and everyday occasions. Whether it's a grand wedding celebration, a milestone birthday, or a heartfelt gesture of love and support, they approach each order with meticulous care and attention to detail. Renowned for their original and imaginative designs, they source the finest flowers and products from around the world, ensuring the highest quality for their customers. Additionally, Cook's Florist & Flower Delivery takes great pride in supporting local growers by incorporating locally grown flowers and plants when they are in season, fostering a sense of community and sustainability.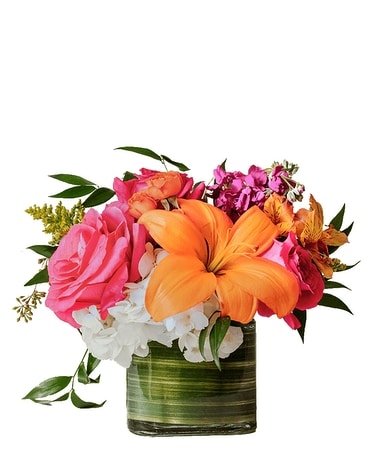 One of the distinguishing features of Cook's Florist & Flower Delivery is their specialization in various styles of floral arrangements. Their talented designers remain at the forefront of industry trends, constantly acquiring new techniques to transform their customers' visions into reality. From the captivating allure of Contemporary arrangements to the elegance of High Design and the timeless beauty of Traditional styles, Cook's Florist & Flower Delivery delivers an exquisite range of options to suit diverse preferences. Notable trends such as Rustic Romance, characterized by its abundant greenery and natural elements, as well as the enduring appeal of the Romantic Garden style, are expertly crafted by their team to create distinct and unforgettable looks for weddings and special events.
Those in search of floral perfection can find Cook's Florist & Flower Delivery at their convenient location on 815 North Black Horse Pike Runnemede, New Jersey 08078. To place an order or inquire about their services, customers can reach check out their website at www.cooksflorist.com, or contact them directly at (856) 931-7193, where their friendly and knowledgeable staff is ready to assist.
For further information and to explore their extensive offerings, customers are encouraged to visit the Cook's Florist & Flower Delivery website at www.cooksflorist.com. The website provides a comprehensive overview of the shop's wide array of floral designs and services, making it effortless to find the perfect arrangement for any occasion.
About Cook's Florist & Flower Delivery:
Cook's Florist & Flower Delivery is a cherished family-owned and operated business that has been proudly serving the community of Runnemede, NJ, and its neighboring towns for over 75 years. With an unwavering commitment to artistic floral designs and unparalleled customer service, they continually strive to exceed expectations and create memorable experiences for each and every customer. Led by the talented owner, Michael Boskey, their team of skilled designers combines innovation, creativity, and expertise to deliver exceptional floral arrangements for weddings, special events, and everyday moments of joy. Throughout their rich history, Cook's Florist & Flower Delivery has become a trusted name synonymous with quality and customer satisfaction in the local floral industry.
###
For more information about Cook's Florist and Flower Delivery, contact the company here:

Cook's Florist and Flower Delivery
mboskey@cooksflorist.com
(856) 931-7193
https://www.cooksflorist.com/
Cook's Florist and Flower Delivery
815 North Black Horse Pike
Runnemede, New Jersey 08078