Clean Group Sydney Offers High Tech COVID Cleaning Services in Sydney NSW
September 03, 2021 at 15:49
Clean Group Sydney has announced that they are providing high tech COVID cleaning services in Sydney, NSW, Australia. For instance, they use an electrostatic sprayer along with a hospital-grade disinfectant that is approved by the TGA and the Australian Health Department. Their professional cleaners have all been trained in providing in-depth cleaning using high-tech equipment and tools that allow them to complete the cleaning process more effectively and more quickly.
Stephen Matthews, Commercial Cleaning Manager at Clean Group Sydney, says, "The electrostatic sprayer applies a small electrical positive charge to the aerosols passing through the nozzle. This allows the charged droplets to adhere easily to the surfaces to be disinfected because these tend to have a negative charge. This ensures that there will be no missed surfaces because the aerosol droplets will be electrically attracted to the surfaces. The positively charged droplets repel each other and then actively seek out the surfaces and stick to them and coat all sides, even underneath and other places that are hard to reach with manual wiping or using regular sprayers. There would also be no pooling of the disinfecting chemical that usually happens with trigger sprays."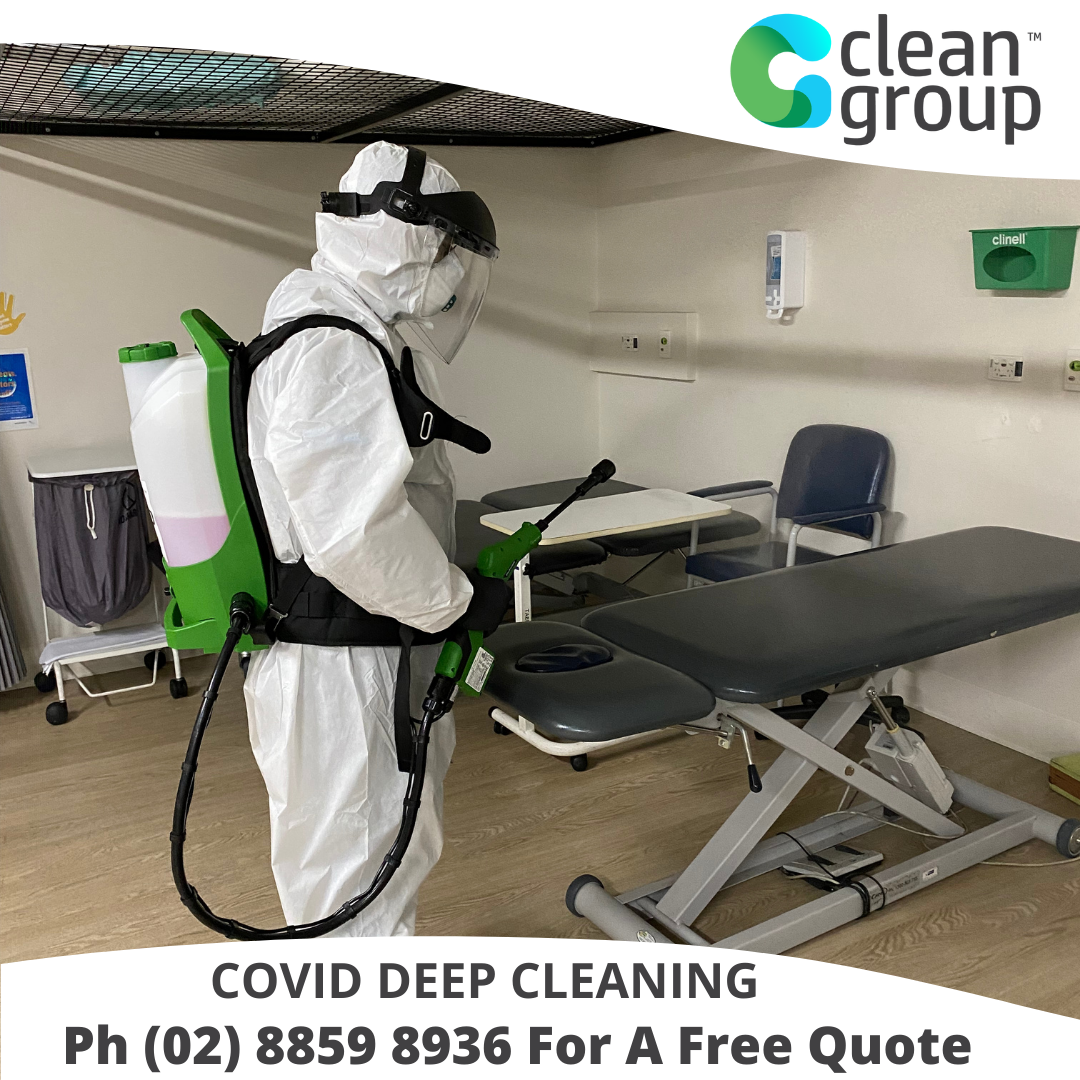 To make sure that their COVID cleaning process is done effectively and quickly, they use high-tech cleaning equipment, such as the HEPA multi-filtration vacuum cleaner. With this advanced vacuum cleaner, they can ensure that the indoor air quality is at a level that does not jeopardize the health of the people occupying the office space or commercial premises. This will protect the people by preventing them from inhaling contaminants in the air that can result into allergic reactions and asthma attacks.
Another advanced cleaning tool employed by the Clean Group Sydney cleaners is the i-mop floor scrubber. This is a high-tech cleaning tool that provides fast cleaning of floors and other surfaces when used instead of a wet mop. The i-mop floor scrubber is equipped with twin counter-rotating brushes that provide 90 percent cleaner floors and other similar surfaces. It also has colour-coded accessories to make sure that cross-contamination is prevented. This is essential, particularly for COVID cleaning. And the suction technology of the i-mop floor scrubber is so powerful that it is possible to have a drier and cleaner floor in much less time.
The professional cleaners from Clean Group Sydney also use microfibre technology to minimise the quantity of water and cleaning chemicals that are required to provide the necessary cleaning level. This is beneficial for the environment and conserves water. The mops, cleaning cloths, and other tools for cleaning are made using microfibres, which are synthetic cloths fabricated using a combination of nylon and polyester. They have a net-like surface that traps more dirt and liquids, thus making them much more effective in getting rid of dust and dirt from different kinds of surfaces. They also absorb more water than ordinary cloths, which means less water and cleaning solutions are consumed.
Meanwhile, the COVID cleaning services they provide will include in-depth cleaning and disinfection of the various surfaces and areas that are typically handled by people, such as lift buttons, tabletops, door handles, keyboards, chairs, water faucets, every computer mouse, light switches, and more. They will then conduct routine inspections to make sure that all of the standards have been met and that the customer will be satisfied. They want to stress that their COVID disinfection service will not just kill up to 99.99 percent of germs from the worksite or office, but it will also help in preventing reinfection. This type of decontamination service is what is needed for those commercial spaces that have a high risk of infection. They will fully decontaminate the whole premises, including hard surfaces such as walls and floors, including chairs, wardrobes, tables, sofas, windows, computers, and doors.
Those who are interested in knowing more about the Clean Group COVID cleaning services can visit the Clean Group Sydney website, or contact them through the telephone or via email.
###
For more information about Clean Group Sydney, contact the company here:

Clean Group Sydney
Stephen Matthews
+61288598938
sales@cleangroup.email
50 Pitt St, Sydney NSW 2000