Clean Group Sydney Delivers Office Cleaning Services
January 13, 2021 at 16:37
NSW-based Clean Group Sydney is pleased to share that they are ready to serve new clients who require professional cleaning for their office premises. In particular, the company is able to disinfect and sanitise an office environment thoroughly in order to render it safe for customers and staff alike. Those who wish to implement additional protections against the pandemic are encouraged to contact Clean Group Sydney today and request this specialised service.
One major factor that has long made Clean Group Sydney a favourite among local communities is that their cleaning service is available at highly competitive rates. Prior to the onset of the pandemic and the unique challenges it presented, the company made their name by providing a professional and comprehensive cleaning service that nonetheless remained quite affordable despite its high quality. Today, the company has extended this policy to ensure that local businesses never have to compromise on quality or any other factor in order to afford an excellent disinfection service. Safety is one of the company's primary concerns, and they believe that the best way to keep their community safe is to make sure they have access to all the services they need.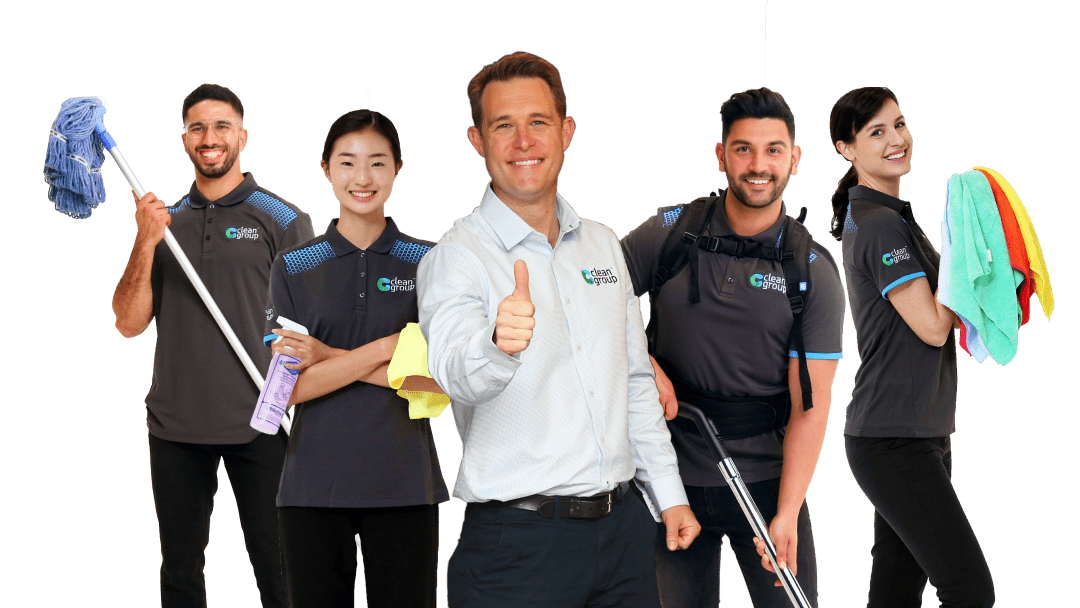 Stephen Matthews of Clean Group Sydney recommends the COVID-19 Disinfection and Protection Shield Cleaning, the first session of which he says comes free for new clients who opt for a regular cleaning. "This innovative approach to sanitisation kills up to 99.9% of germs for up to 30 days," he explains, "giving you ample protection as well as time to realise just how valuable our office cleaning services are. It is also TGA approved, and administered by staff who were expressly trained to ensure no part of your office is ignored. We use the Zoono Z-71 along with an electrostatic spray to cover every surface, leaving nothing untouched. This solution will also not harm either you or your equipment."
The company actively promotes a high level of customer care among their staff as well, running training programs that are designed to implement a satisfactory work ethic as well as attention to detail in the cleaning process itself. In practice, this means that clients may expect Clean Group Sydney's cleaners to arrive on time, every time, and their routine will never skip any of the responsibilities they have been assigned. Businesses may be familiar with other providers failing to deliver what they have promised, with cleaners forgetting to handle certain areas on occasion or failing to consistently empty rubbish bins, clean toilets or even setting the alarm once they leave. Clean Group Sydney, however, makes it their mission to make sure the client is always satisfied with their work.
Matthews adds, "If you've had to deal with cleaners coming in late in the past, not cleaning certain surfaces correctly or perhaps even leaving smudges in highly noticeable areas, you need not be concerned this will happen with us. Our existing client base continues to make us their office cleaning service of choice because they have experienced the quality of our work first-hand. We have a passionate, reliable team of cleaners who take cleanliness as seriously as our clients do, and the company as a whole is committed to proving that we are the right cleaning provider for you. Our team also undergoes the most state-of-the-art training and has access to the best equipment, techniques and products available on the market today. If you're still not convinced, rest assured that our services come with a 100% guarantee. You only need to try us once to see for yourself."
Clean Group Sydney provides a comprehensive cleaning solution under one roof, giving clients the opportunity to have all their cleaning needs satisfied through a single provider. They can also work around each client's schedule as required, among several other advantages. Those interested are welcome to contact the company today to inquire further.
https://youtu.be/U8xSsmpZbm4
Stephen Matthews may be reached for further details as well, and Clean Group Sydney is active on various social media platforms. More information regarding each service they provide can be found on their official website.
###
For more information about Clean Group Sydney, contact the company here:

Clean Group Sydney
Stephen Matthews
+61288598938
sales@cleangroup.email
50 Pitt St, Sydney NSW 2000