Clean Group: Making Use of The Best Technologies in Cleaning
Established in 2017, Clean Group is a full-service commercial cleaning company with a business presence in Melbourne, Sydney, Brisbane and Canberra. Thanks to their committed services and exceptional leadership, the company has become a national leader in office cleaning and commercial cleaning services in a very short span. As of today, Clean Group is one of the few cleaning companies in Australia that use the latest & innovative technologies to consistently achieve excellent results across their cleaning projects.
"We take pride in being one of the leading Australian cleaning companies in terms of providing the most cutting-edge and innovative cleaning solutions. We invest significantly in upgrading our cleaning systems, tools & technologies to meet the changing customer demands, and we do it very frequently. Lately, we did a major system upgrade after the demand for disinfection cleaning surged due to the COVID-19 pandemic last year," said Suji Siv, owner and CEO of Clean Group.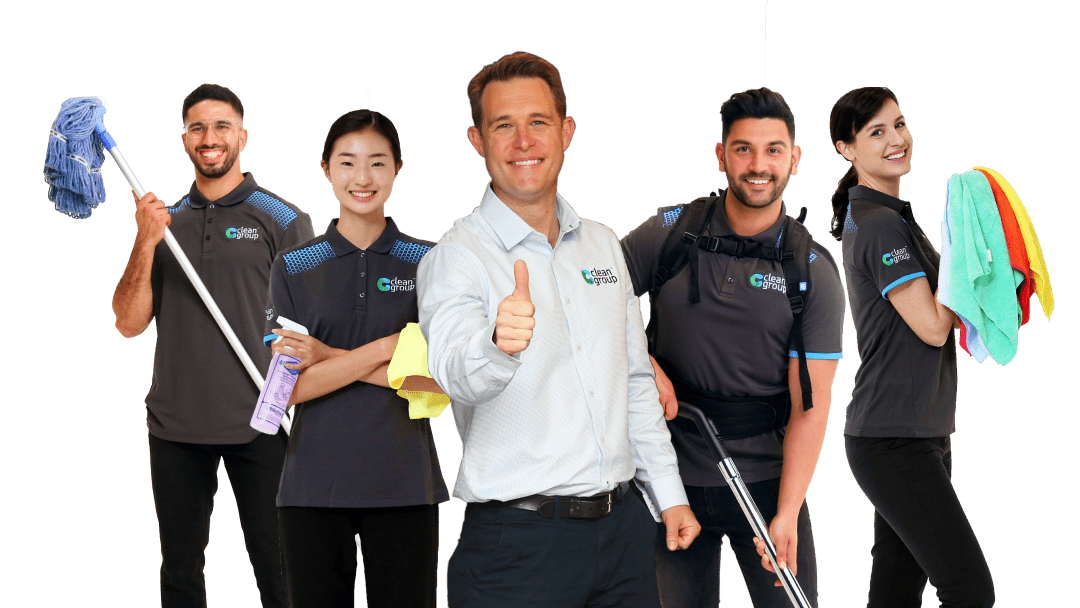 Last year, when the demand for COVID cleaners was surging, the company hired many key personnel with experience & expertise in disinfection-focused cleaning. These people are responsible not only to oversee the disinfection/COVID cleaning projects of Clean Group but also to train the company cleaners in advanced and disinfection-centric cleaning techniques. "Our new staff is now more than ready to tackle all kinds of cleaning jobs, especially the ones with a focus on the property sanitisation to get rid of COVID-19 and other viruses," he added.
As of now, Clean Group offers cleaning services to a specific group of properties, which mostly include commercial premises such as offices, schools, malls, childcare centres, hospitals, gyms, and strata buildings. The company has routine cleaning contracts with hundreds of businesses all over Sydney, Brisbane, Melbourne and Canberra. It caters to the cleaning needs of both private and government properties, as long as they are commercial. In addition to cleaning, the company may also be hired for occasional maintenance, repairs and garden cleaning tasks.
Even since the company launched three years back, it has been Clean Group's philosophy to use only the most advanced and cutting-edge cleaning technologies to ensure sparkling clean, hygienic results for all their customers across all projects. Keeping up to their promise, the company is using many modern cleaning tools and equipment, including the i-Mop floor scrubber & cleaner that comes with twin counter-rotating brushes and offers deep scrub with up to 90% cleaner surfaces compared to traditional methods. Besides being highly efficient, the i-Mop scrubber minimizes the use of water and chemicals in the mopping process.
Other than that, the company uses HEPA multi-filtration vacuum cleaning that is known to improve indoor air quality and remove germs. For the cleaning of sensitive premises such as hospitals and clinics, it uses hospital-grade germicide disinfectant that is effective against a wide range of disease-causing germs. "We don't know of any other commercial cleaning company in Australia that invests as much as we do in keeping up with the latest tech," says the Clean Group website.
The latest inclusion to the company's extensive range of advanced cleaning tech is the Electrostatic Virus Shield technology that has been approved by the Department of Health for disinfecting against COVID-19. "Electrostatic Sprayer application technology together with Zoono-71 Surface Sanitiser can kill up to 99.99% of germs for up to 30 days. TGA Approved," according to the website.
The said method of disinfection is one of the most cutting-edge and is already being used by organisations such as CBRE, QANTAS, and Woolworths. The method involves the use of a meticulously designed electrostatic sprayer machine that contains the Zoono-71 Surface Sanitiser solution. The machine sends electronically charged sanitiser particles when used to disinfect a surface. "The charged particles are proven to kill germs effectively and protect the surfaces for a longer time."
Another thing to note here is that Clean Group is providing this highly effective disinfection service at nominal costs to local businesses in multiple Australian cities. Whereas many companies will charge at least a few hundred dollars per application of electrostatic disinfection, Clean Group is doing it for a much lower rate. And, new routine cleaning clients of the company get their first disinfection & protection shield cleaning for free.
https://youtu.be/gFgOD37psCE
To know more about the latest cleaning technologies & methods of Clean Group, visit the official website.
###
For more information about Clean Group, contact the company here:

Clean Group
Suji Siv
1300 141 946
sales@cleangroup.email
14 Carrington St, Sydney NSW 2000