Atlanta Institute of Music and Media Outlines 4 Reasons Musicians Should Get A Music Degree
In these difficult and challenging times, it can be hard for many people to understand just what musicians can do with a music degree and why getting one is so important. The Atlanta Institute of Music and Media (AIMM) wants the musical community to know that there are plenty of reasons for any would-be musician to make the effort to obtain just such an education.
To begin with there are four very important reasons that the Institute believes are critically important to the future success of anyone interested in a musical career. First and foremost, pursuing a music degree will elevate any students' skills with their instruments. Simply by doing the work, students improve and learn not only from their instructors but also from each other.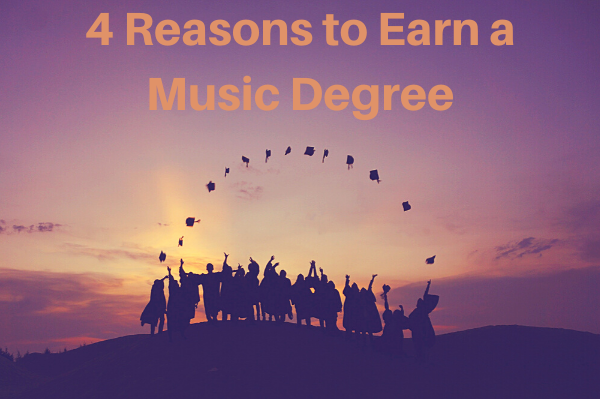 Kara Toohey, a student currently studying at AIMM said, "It's not possible to pursue a degree here without seeing your skills and playing improve. I was a pretty good flautist but now I am an excellent one. I'm in my last year now and there are already some orchestras showing an interest in hiring me when I graduate."
In addition, AIMM emphasizes that pursuing a degree brings the opportunity to collaborate with instructors, fellow students, and even occasionally with currently successful masterclass performers who give special symposiums at the school.
Obviously, having a degree is a requirement for many performing professional or educational organizations. Asia Denney, one of the adjunct professors at AIMM, said that a bachelor's degree is an absolute must for many orchestras or theatrical groups. She added, "There is a lot of competition amongst young musicians for such positions and when two people have very equal playing abilities then having that degree under your belt can give you the edge."
As with other disciplines, a good reason to pursue a music degree is that musicians with a degree command higher pay. Many people believe that higher paid positions are only available to those with a science degree, but the fact of the matter is that belief is simply not true. This misconception that working as a musician means abysmally low pay, is just not the case. According to the U.S. Bureau of Labor Statistics, the median pay for musicians in 2019 was $30.39 an hour. At a full-time schedule, that is about $63K a year before taxes. That is certainly a livable wage by most people's standards.
Ms. Denney continued, "Another reason to pursue a music degree is that it generally increases the opportunities that a musician will have to travel the world in conjunction with his or her profession. Symphonies and orchestras the world over hire musicians every season to work for them. This hiring is not always done in-country, and having the degree not only qualifies you for this work, it can very often put you in touch with people who are hiring decision-makers after graduation."
There is also the mistaken idea that pursuing a music education only prepares people to perform, but that too is a complete misconception. AIMM stresses that their degree courses can prepare anyone who is interested in a music related career but is not actually a musician. There is a long list of career options within the field of music; everything from being a performer to dealing with licensing and clearances for musical use by businesses or movies. The truth of the matter is that a musical career is possible for people from any background who have an interest in the field but do not wish to be a performer. AIMM has music degree program that are specifically for those who are interested in the technical side of music production and sound engineering. The Music Production and Audio for Media Associate Degree is one of the options for would-be technicians.
Anyone who is interested in pursuing a musical career and wishes to find out more about how a degree can help them should visit AIMM's website where more in-depth information about the various courses available can be found.
###
For more information about Atlanta Institute of Music and Media, contact the company here:

Atlanta Institute of Music and Media
Nite Driscoll
(770) 242-7717
admissions@aimm.edu
2875 Breckinridge Blvd #700,
Duluth, Georgia 30096