Atlanta Institute of Music and Media Opens to the Public for an Exhilarating Summer Open House
Duluth, Georgia -
The Atlanta Institute of Music and Media (AIMM) is thrilled to announce its highly-anticipated Summer Open House event on Saturday, August 12th, beginning promptly at noon. All future music superstars and tech enthusiasts are invited to step inside AIMM's hub of creativity and learning located at 2875 Breckinridge Blvd, Suite 700, Duluth, GA 30096.
This unique open house is a vibrant platform to explore AIMM's modern campus, engage with faculty, and mingle with like-minded students. Attendees of this event will have the opportunity to experience AIMM's immersive, hands-on training through captivating live performances and engaging sample classes.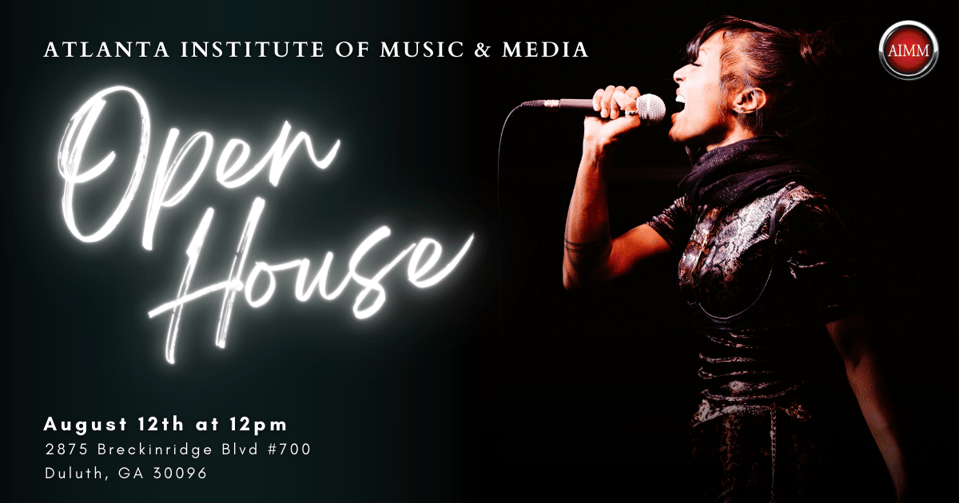 Sample classes will cover a wide range of music disciplines, from music production to instrument performance, showcasing cutting-edge music and technology. Guitar, bass, vocals, drums, and keyboard classes will also be featured at the open house.
AIMM is committed to success, as demonstrated by the achievements of music production alums like Kesha Lee (Childish Gambino, Gucci Mane), KEYZBABY (Beyonce, Cardi B, Wiz Khalifa), Stephen Freeman (Tyrese, Method Man, Mary J. Blige), and Turbo the Great (Young Thug, Lil Uzi Vert). AIMM's success stories highlight the bright future that awaits students who choose AIMM for their music and technology education.
For someone considering attending a music production school or music performance school, AIMM provides a wealth of certificate and degree programs. Known as one of the best music colleges in the region, AIMM offers certificates in Music Production, Music and Technology, as well as Performance Certificates for Voice, Guitar, Bass, Keyboard, and Drums. These programs can be completed in 12 to 18 months.
For a more in-depth industry education, AIMM also offers a degree in Music Production and Audio for Media. For those wanting to focus on vocals or instrument performance, AIMM offers a Music and Technology degree, where students will learn to blend instrument performance with recording and engineering skills. Both programs can be completed in 18 to 36 months, depending on a student's commitment.
For those who value convenience and flexibility, this Georgia school also offers Online Certificates in Music Production, Music and Technology with a Guitar Concentration, and Music and Technology with a Bass Concentration.
Nite Driscoll, president of AIMM, explains what sets the school and its diverse educational offerings apart from other music institutions. "Our school stands in a class of its own. Atlanta is renowned for its vibrant music scene, where our students can establish invaluable industry connections. We offer comprehensive music performance programs for voice, guitar, bass, keyboards, and drums. Our music performance majors can collaborate with our music production students and explore specialized music production courses not typically found in other performance-based curriculums."
AIMM is an Atlanta institution that prides itself on exceptional programs, advanced facilities, and invaluable industry connections in music and technology.
AIMM asks that all interested attendees secure their spot by August 11th.
For more information and to RSVP, visit their website.
About Atlanta Institute of Music and Media:
Atlanta Institute of Music and Media (AIMM) has distinguished itself as a premier institution committed to fostering the talent of aspiring musicians and technology enthusiasts. AIMM provides an immersive, hands-on learning experience, utilizing cutting-edge facilities and staffed by dedicated industry professionals. AIMM strives to equip students with the skills, knowledge, and industry connections necessary to excel in their chosen fields.
###
For more information about Atlanta Institute of Music and Media, contact the company here:

Atlanta Institute of Music and Media
Nite Driscoll
(770) 242-7717
admissions@aimm.edu
2875 Breckinridge Blvd #700,
Duluth, Georgia 30096