AIMM offers a Vocal Degree Program that Combines Instrumentation with Music Production Techniques
December 16, 2020 at 17:02
Atlanta Institute of Music and Media offers a vocal program titled, "The Associate of Applied Science in Music and Technology: Voice Concentration" to allow singers to advance their skillset with the necessary education to further their engineering and recording abilities. The Music and Technology Degree comprises specially designed courses and a rigorous curriculum to help the modern musician thrive in the competitive music business through technical skill learning on an instrument and acquiring an in-depth understanding of the "writing, recording, mixing, and mastering process."
AIMM claims that this is the best course for anyone looking to extend vocal range through new techniques to perfect their tone. Graduates will have the advantage of an impressive portfolio of work and musical abilities upon completion of the course, adds the Duluth-based music school. The diverse portfolio of skills gives graduates an edge when it comes to finding employment or choosing a music profession. Students will have the advantage of being AIMM graduates, which will open up an array of career opportunities for them. Students that perform well all through the program will be eligible for AVID Certification Exams to become Pro Tools Certified.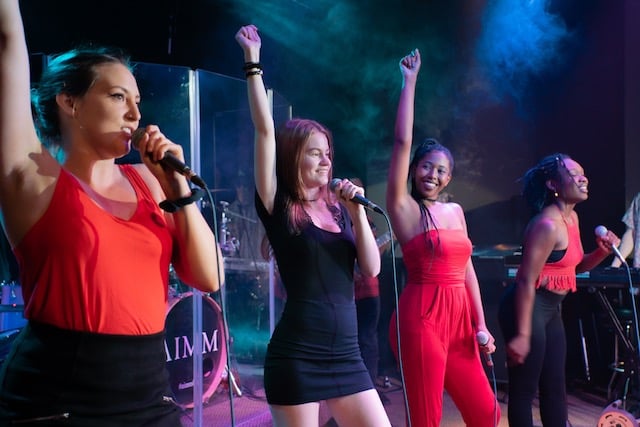 "Your experience and diverse portfolio of skills will make you a prime candidate for not only record labels, but also video games, movies, television, radio, multimedia production studios, and more," the Institute says.
The Duluth-based music academy focuses on Ableton Live that creates a bridge between creative music production and live performance. Students also receive the benefit of learning microphone techniques, analog and digital music production, effect plugins, virtual instruments, and keyboard skills for the digital audio workstation.
Intermediate vocalists can benefit significantly from this vocal degree due to its advanced curriculum and renowned professionals, who are focused on helping students maximize their talent and offer appropriate guidance to pick the right career.
AIMM offers a diverse range of learning styles, which is engaging as well as skill-building. Students can make the most of the classroom curriculum, studio performances, and music labs to hone their vocal talent and technical skills.
The Atlanta music school lists more details on its website. AIMM offers a surplus of opportunities for music enthusiasts. The Atlanta Institute of Music and Media has earned the reputation for being the leading music institute in Georgia for national and international students.
###
For more information about Atlanta Institute of Music and Media, contact the company here:

Atlanta Institute of Music and Media
Nite Driscoll
(770) 242-7717
admissions@aimm.edu
2875 Breckinridge Blvd #700,
Duluth, Georgia 30096