Aimm Offers A Next Level Accelerated Mastering Program For Intermediate Guitar Students
December 09, 2020 at 16:57
The Atlanta Institute of Music and Media (AIMM) has a guitar degree titled, "The Music and Technology Associate Degree: Guitar Concentration" for intermediate guitar students. With a mission to provide the modern guitarist a fully immersive, nonstop music atmosphere, AIMM program promises to offer insider information and "in-depth understanding of the writing, recording, mixing, and mastering process." Guitarists have the advantage to learn the best tips and techniques that leading professional guitarists use.
The Music and Technology Degree is for the modern musician to learn technical skills to work on an instrument to thrive in the field of the competitive music business. According to AIMM, "If you're looking to push your musical and technical skills to the next level through specially designed courses and rigorous curriculum, then the Music and Technology Associate Degree: Guitar Concentration is perfect for you."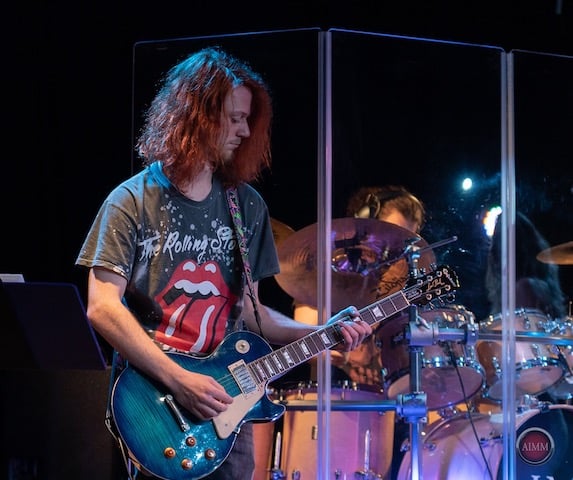 Those who complete the Associate Degree in Music and Technology course "will also have put together an impressive portfolio of your work and musical abilities." According to the AIMM, this portfolio will help graduates find employment. The diverse portfolio of skills promises to make graduates a prime candidate for recording labels, television, video games, multimedia production, and movies. This could also be the beginning of a self-employment career in music or production industry.
The Atlanta Institute of Music and Media explains how the program will open up an array of career opportunities for students. For good students, the opportunities are endless, explains AIMM, adding,"As an AVID Training Partner, AIMM offers you the opportunity to become AVID Pro Tools Certified as you progress through the curriculum. Using Pro Tools and Ableton Live, you will learn analog and digital music production, microphone techniques, virtual instruments, effect plugins, as well as hone your education in music theory essentials and keyboard skills for the digital audio workstation."
AIMM shares an important message with students that students must show proficiency on their preferred instrument in order to qualify for the Music and Technology Degree, which is meant for intermediate musicians.
Sharing details about the program, AIMM explains that the course is divided into three schedules to make it easy for students to enroll, viz., 18 months of accelerated studies, 30 months of ¾ time enrollment or 24 months of full-time enrollment.
Through its Digital Audio Workstation certification, AIMM promises to give its graduates an edge over others, claiming that it "can be a great asset when searching for a job in your field."
Students must complete the required number of General Education Credits. AIMM requires students who have complete General Education credits in other institutions to "demonstrate appropriate comparability to AIMM."
Music enthusiasts interested in a prolific career in the guitar genre have endless opportunities at AIMM, with a range of courses available to be perfect in the art and gain confidence.
Anybody interested to avail the endless opportunities at AIMM can click the link below and get in touch with the Atlanta Institute of Music and Media.
###
For more information about Atlanta Institute of Music and Media, contact the company here:

Atlanta Institute of Music and Media
Nite Driscoll
(770) 242-7717
admissions@aimm.edu
2875 Breckinridge Blvd #700,
Duluth, Georgia 30096