Abreu Movers Bronx Introduces Commercial Moving Services
November 11, 2021 at 17:30
Abreu Movers Bronx recently launched its newest commercial moving service in Bronx, New York. The new service is available for commercial clients in the area and is anticipated to welcome their growing family of services. As an industry leader in moving services, Abreu Movers Bronx prides itself on striving to provide the absolute best service for relocation needs.
The brand new commercial moving service will help their customers with all aspects of office relocation in the Bronx area. Abreu Movers Bronx employs experts in commercial moving services to make sure that each client's needs are met, and their relocation goes off without a hitch.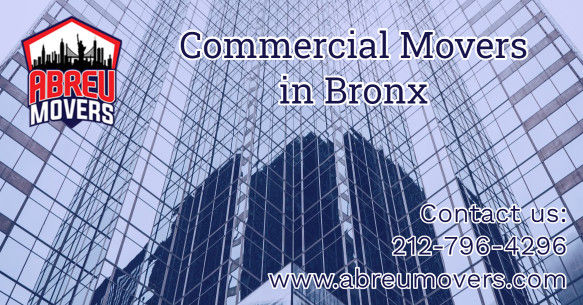 Commercial movers of Abreu Movers Bronx are excited to offer moving services to clients in the Bronx, New York area and hope they will choose to help with timely and cost-effective office relocation. The service is designed to meet all commercial needs for a business relocating within the local area. Expert movers of Abreu Movers Bronx say, "we will work with each client to ensure that we can meet their needs, and we'll give them a free, no-obligation estimate based on the information they provide us about their move."
The commercial movers of Abreu Movers Bronx work with offices and schools, churches, and government agencies in the Bronx, New York. They can easily handle the relocation of any size office and employ experienced, licensed, and insured commercial movers for this purpose. Their goal is to provide clients with the latest equipment in commercial moving services and affordable rate options to accommodate even a tight budget.
The new commercial moving services include packing and unpacking as well as disassembly and re-assembly of furniture. They can also take care of moving any office equipment such as copy machines and filing cabinets. Movers of Abreu Movers Bronx say, "we want to provide our customers with the utmost convenience, and we will handle all aspects of their commercial move."
Since its beginning, Abreu Movers Bronx has been hard at work building a solid reputation as the best commercial moving service provider in the area. They plan to establish themselves as an industry leader and trustworthy brand for relocation services with their new services.
They have a wide range of services available apart from commercial moving, including local and long-distance moving. Regardless of its services, the company uses the same high standards in all of its services, and they remain committed to providing customers with the best service at affordable rates. Customers can always call and receive a quote in person or visit their website to get an official quote.
###
For more information about Abreu Movers Bronx, contact the company here:

Abreu Movers Bronx
Abreu Movers Bronx
212-796-4296
info@abreumovers.com
880 Thieriot Ave, Bronx, NY 10473